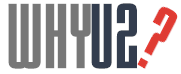 It's been a long time since the last U2 record. No Line on the Horizon was out in the first quarter of 2009, more than five years ago. Since then, we've gotten a couple of pretty great fan-club releases, the massive (or not, depending on what version you bought) Achtung Baby reissue set, and a few other little odds n ends.
The band also embarked on a pretty substantial world tour that lasted a few years, Bono had a serious back injury, then had surgery, and is now back to form. I bring up all of that to make the point that it isn't like the band have just been hanging out, kicking back – although there seems to have been a fair bit of that, too. They deserve it, though, don't they? Unlike a lot of other popular artists and performers, the four guys in U2 really do work at this rock star thing. It's a job to them, and one they take seriously. While it's true that patience isn't a quality that I possess in great quantities, I do honestly believe that the album will be better for them having taken their time on it.
I've no doubt that they could have released something two or three years ago, but it probably wouldn't have blown any of our socks off, and isn't that kind of why we love U2? Because they consistently amaze us? Because they will spend years laboring over songs and albums? Because they take the stage even if they're under the weather? It matters to them. Bono once said something to the effect of music being the tie that binds us – because they're close to the music, and we're close to the music, that means we're close to each other, and I really believe that to be true, but it only works if they are, in fact, close to the music. Yet another reason, one more of many, to love U2.
The following two tabs change content below.
broadsword
Ever since I realized as a kid, while poring over the liner notes of the Bob Marley - Songs of Freedom boxed set, that writing about music was a viable career choice, one of my greatest desires has been to write about U2. The band has been a major part of my life for as long as I can remember, and I'm thrilled to have this opportunity to contribute a little something to the fantastic online community that's been built around the band.
Latest posts by broadsword (see all)