To mark the 32nd anniversary of Bono's marriage to Ali Hewson, this week's Bonoisms will be a collection of quotes from the man about his wife – strictly things he has said about the early days of their relationship. In other words, I won't regurgitate the "I need her more than she needs me" quote you've read a hundred times – oops, except I just did. From this point forward, it's all rare quotes from the mouth of Bono about the days when he and Ali could sleep on stones – promise!
The best things that Bono has said publicly about his early days with Ali, I've found, are in the book U2 by U2. If you have not yet purchased this epic volume published by the band in 2006, please do so now because it is a treasure trove of U2 information; it really is the story of the band from the mid-1970s to the mid-2000s, told in each member's own words. Some of the most fun-to-read highlights of the book are Bono's account of his dating relationship with Ali, as well as his story of their wedding and honeymoon. I won't give all the spoilers, but here are some snippets that make for one magnificent love story.
(When trying to get the band signed to a label) – "I went to London with Ali. It was a big deal in my own mind because I was taking this beautiful girl on a trip…we were not married but we were going to sleep in the same room with the agreement that we wouldn't sleep in the same bed. Her old man had looked me in the eye and, you know, I'm going away for a week with his daughter. So I had to the keep the promise, which was very, very hard."
(On speaking with a couple he had just met, who urged him to marry Ali) – "I'm a bit of a stray dog. I would not have been in the queue to get married, had I not met someone as extraordinary as Ali. I always felt more myself with her than with anybody."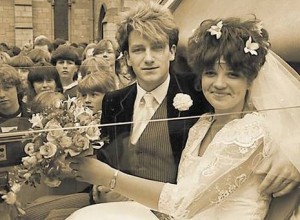 (On their wedding and honeymoon) – "It was a very eccentric affair. We had the wedding in a small chapel in Raheny…Ali still laughs about how, on our honeymoon, I was writing an album called War."
And my favorite…
"In the interests of decorum, I would like to point out that Ali and I did not move in until we were legally wed." I love that he feels compelled to put that out there!
This week, while we're all speculating just how these two could stay married for 32 years – and, trying to figure out what we can learn from the longevity of said marriage – maybe we can reflect on some of these Bonoisms about the younger, more innocent, and far less affluent days of Bono and Ali. There has to be a lesson in there somewhere!
The following two tabs change content below.
Brook
U2 history seeker in the radical center. The air is so anxious; all my thoughts are so reckless. Contact via Twitter at @U2RadioBrook.