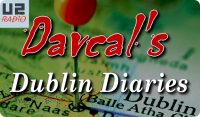 Summer is upon us and, unusually, the weather in Dublin has been fantastic. This is a welcome development as the annual Dublin pilgrimage of U2 fans has begun. Year after year they descend upon Dublin in their droves all with one question "Where's Bono House?" In previous years I was only vaguely aware of this summer migration. U2 pilgrims are easy to spot – they are the only people that think nothing of spending €6 for a pint in the Clarence. They are also the only people in Dublin, even for the short period of time that they are here, who are not afraid to show their love for U2. Thanks to sites like U2radio.com (and others, I guess [ed note – but mainly U2Radio.com ;)]) the U2 world has become a smaller place and over the last five or six years I have gotten to know quite a few U2ers from all kinds of exotic locations – and Boston – all of whom have one location to visit on their bucket list. Dublin.

Being the generous soul that I am, I may have, in a moment of drunken madness, suggested that I would be happy to show people around the U2 sites when they visit. Forgetting that I was not speaking to other Irish people who would know instinctively to ignore my offer, the U2ers took me at my word, and being the shallow, attention seeking whore that I am, I obliged with requests to meet. The first 'tour' happened in 2012. Pamela from Austria and Lisa from Indianapolis arrived in Dublin. We had arranged to meet at Clontarf 'Dart' station to begin 'the tour'. It was a lovely summer day as we set off to Mount Temple. The School was open so we had a good walk round, took a few pictures and set off for our next stop 'Bono house'. Not the house he lives in now. No way, Killiney is too far away. Well, its not too far, I just…look, unless people are stumping up petrol money Killiney is out! So, 10 Cedarwood Road it was. It had been many years since I was there so I drove aimlessly for a while until we eventually found it. More pictures and no little embarrassment as the lady who now owns the house peered out her window with a look that said (to me anyway) "tsk, must be summer. The U2ers are back!" Next stop Ballymun, then Finglas – Bono didn't live in Ballymun, He lived in Finglas East. I am from Finglas, Bono lived in the 'nice' part of Finglas, He even had a garage!!, He was kind of between the two. A middle class enclave between two of the most deprived working class area's in Dublin. A great vantage point for a budding song writer, but middle class nonetheless. Or at least compared to my part of Finglas and Ballymun it appeared middle class –  We also stopped off at Croke Park and The Point Depot before 'the tour' ended at Dublin zoo. I said my goodbyes and we went our separate ways.
Since then I have managed to be out of Dublin for one reason or another when anyone I knew was arriving. There is a rumour going round that I have actually been in Dublin and was just making up the 'I'm away' story. This is a scurrilous rumour with no basis in fact whatsoever…*ahem*
:/
However, this June I had run out of excuses…I mean I was available.  First up was Daniel. Young Daniel-son is from Madrid, but studying some kind of medical degree/sorcery in Philadelphia. Daniel is the youngest U2 fan I know and as such he has agreed to look after all U2 fans for free when we are all old people and he is running his own hospital/witches lair. However, Despite being the King of Spain's son, Daniel thinks he is American. So…go figure, as an American would say. I met Daniel early on Sunday morning and we took in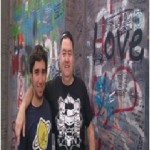 Hanover Quay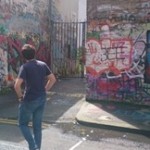 Windmill Lane
The woman who lives in Cedarwood Road has threatened to start charging me rent if I turn up on her doorstep again! We had some lunch and I dropped Daniel off at the Airport. Off he went and off I went. Good visit. Next up was Lenny (or Leeny, she can't decide) from Albany NY and Ana from Vigo, Spain. This was going to be the first time I had a night out with migrating u2 fans. We didn't get to do any of the U2 sites, mainly because I couldn't make it to meet them. That and the woman in Cedarwood is on to me. We arranged to meet in the Octagon Bar in the Clarence Hotel. This was another first for me as I had never set foot inside the Clarence before Saturday night. Bono has enough of my money without him getting my beer money too!
The following two tabs change content below.