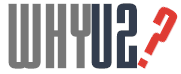 I've long maintained that one of Bono's greatest gifts as a lyricist is that he's able to write about his own experiences and feelings in a way that focuses on the elements that are shared by the largest parts of humanity, without being so specific that people can't relate to it. It's why I'm able to relate to Bono's thoughts and feelings on heroin addiction, for instance, even though I've never used the drug myself. I know what it's like to make bad decisions that it's impossible to escape from, or to need something that's only going to hurt me in the long run. It's the same reason that Bono's reflections on scripture, or on Christianity, resonate with me despite the fact that I'm an atheist. Even though I don't believe in a higher power, Unknown Caller still moves me to tears every time I hear it, because I know what it's like to be given the opportunity to "restart and reboot yourself". I know that sometimes, the best move one can make is to "(not) move or say a thing", and I think that one of life's most important lessons is that we should all "shout for joy when (we) get the chance." In "40", when Bono talks about waiting patiently "for the Lord", I always understood it in a more general sense. In that instance, waiting "for the Lord" could mean waiting "for the universe", it could be waiting "for time to pass" or waiting "for her (or him) to come to her (or his) senses". The take-away lesson in that song, for me, is that things don't always happen in the time that we'd like for them to. We're not in total control of everything in our lives, and sometimes, that's just fine. I love that Bono and U2 are able to speak to me on such a deep personal level even though some of our most basic beliefs are diametrically opposed.
The following two tabs change content below.
broadsword
Ever since I realized as a kid, while poring over the liner notes of the Bob Marley - Songs of Freedom boxed set, that writing about music was a viable career choice, one of my greatest desires has been to write about U2. The band has been a major part of my life for as long as I can remember, and I'm thrilled to have this opportunity to contribute a little something to the fantastic online community that's been built around the band.
Latest posts by broadsword (see all)