I often think back to when I first became interested in U2's music. I was a student at a boarding school, and one of my classmates had a pretty extensive collection of U2 CD's that he lent me. I was awkward as a kid, didn't have a lot of friends, and I felt out of place wherever I went as a general rule. I remember one night, while everyone else was down at the gym for the night's recreational period, I lay on my bunk, with the lights out, cradling my boom box, listening to The Joshua Tree. My dad had always been a fan of country music, and although I'd never shared his interest in that particular genre, he was probably the only person I'd ever known that I felt was somewhat reliable. I missed my dad, and I felt lonely and alone. Growing up is hard enough under normal circumstances, but growing up away from your family, surrounded by strangers – well, I survived it, but it wasn't fun or easy. At any rate, I remember being particularly moved by the country influenced "Running to Stand Still", and that listening to it made me feel a little bit like I was sharing something with my dad, the country music fan. Thinking back – wow. That's ridiculous.but growing up is, isn't it? My dad died some years ago, and I'm happily married now, so I don't feel like I'm alone so much as I once did, but "Running to Stand Still" always makes me think of my dad.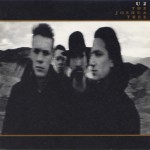 The song, of course, made it's debut as the end of side one on U2's #1 record of 1987, The Joshua Tree. As I mentioned above, the song has a distinct country flavor about it, with the slide guitar and Bono's harmonica recalling the dusty landscape of America's southwest. Lyrically, the song continues that mood, although the location in which the song is set isn't in the US at all, but in Dublin, where Bono grew up. I understand that the song was written about that city's rampant heroin abuse, but thematically, the lyrics tell the story of people who are struggling with the knowledge that their own choices are killing them. They're alone in the desolation they've created, whether that desolation is the physical location of the bleak, empty desert or the emotional location of living between the walls that develop between people as time passes. It's an anchor for anyone who feels alone, or at least that's how I've always heard it. It's got that relatable quality that infuses so much of U2's music – although the song likely means 100 different things to 100 different people, it brings those people together in a way that can't be duplicated by any other means. So it was that "Running to Stand Still" became one of the emotional centerpieces of the shows on The Joshua Tree Tour, on which it was played in an arrangement that echoed the album version fairly closely. Edge played some soft piano chords through the first two verses before Adam and Larry joined in at the start of the third voice, pushing back against the blowing storm that Bono sings about. Finally, the song ends as it began, Edge on the piano, while Bono leads the audience in a solemn chorus of "still running, still running", a reminder that, no matter how "put together" we may appear, there are choices that each of us are running from. A great example of this arrangement can be found on the Rattle and Hum video.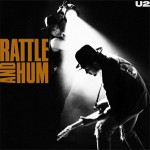 On the ZooTV tour, the song reappeared in one of the most drastic reinventions that any song has undergone throughout the band's career. A steady but subtle pulse of bass forms the back-bone of this version, as Edge plays along with some thoughtful guitar chords. The third verse explodes in a similar climax before fading away again at the end. This time, though, instead of "still running", Bono sings "Halle, halle, hallelujah!". Depending on the performance, and my own state of mind when I'm hearing it, it sounds like either the cold and broken "Hallelujah" that Leonard Cohen famously described, or the sound of a man whose finally ready to stop running. A stellar example of this style can be found on the "ZooTV – Live from Sydney" video package.
Like many songs that were seemingly abandoned during the experimental '90's, "Running to Stand Still" did not make an appearance during the Pop*Mart Tour, and remained absent for the majority subsequent Elevation Tour, but the song did make one very interesting appearance on the European leg of the latter. In July of 2001, in Cologne Germany, during what was normally the band's acoustic performance of "Desire", Bono sang a medley of sorts which included not only "Desire", but also "Hawkmoon 269" and "Running to Stand Still". One of my favorite examples in the band's history of what can happen when spontaneity creeps into the set-list.

"Running to Stand Still" didn't appear again until 2005's Vertigo Tour, on which it appeared at most of the first leg's shows and a handful of shows on the second leg. This arrangement has always seemed to me to be an updating of the original live arrangement, with some simple guitar from Bono added to the mix, and a resurrection of the Zoo Tour's "Hallelujah" coda. It's odd to me that listening to shows from that tour or watching the Vertigo Tour DVD, on which this arrangement appears, demonstrates that the audience's reaction to this once beloved song had cooled somewhat in the intervening years, as the audience always seemed to lose interest somewhat during this song. I expect that might be due to the new generation of fans that the band was now playing to, but it seems that the band were aware of this as well, as the song was dropped not far into the second leg of that tour, and it hasn't appeared since. I honestly don't know who to rate the chance of this song appearing again. I think that the band's experience with the song on the Vertigo tour may have soured them on the song somewhat, and if we consider their desire to appeal to the largest amount of new fans possible if they do tour again, I think that it's unlikely to appear again on a regular basis, which I feel to be a shame. I think that a lot of older U2 fans, such as myself, still love "Running to Stand Still" and would love to hear it again.
2001-07-12 Hawkmoon 269/Desire/Running to Stand Still medley
The following two tabs change content below.
broadsword
Ever since I realized as a kid, while poring over the liner notes of the Bob Marley - Songs of Freedom boxed set, that writing about music was a viable career choice, one of my greatest desires has been to write about U2. The band has been a major part of my life for as long as I can remember, and I'm thrilled to have this opportunity to contribute a little something to the fantastic online community that's been built around the band.
Latest posts by broadsword (see all)