Given recent events, it seems fitting that we take a little time today to talk about U2's relationship with New York City. It was at the start of this week, after all, that U2 made their well-publicized first big public appearance after a long absence, and the fact that New York was once again involved got me thinking about the band's history with the home of respectable American art. Some of the band's greatest influences have called New York home, from The Ramones to Leonard Cohen, and it's gotta be one of the most diverse cities in the US, so it's certainly no surprise that it's one of the locations within our shores that the band feel most comfortable in.
The first blip on the U2 timeline for our beloved Big Apple, for today's purposes, anyway, came in the mid 90's, when the rhythm section of U2, that being drummer Larry Mullen, Jr, and bassist Adam Clayton, retreated to
the city that never sleeps following the nearly two-year long media onslaught that was ZooTV. You see, it took a city like New York, where celebrities are a dime a dozen and the citizenry is so blase' that you have to yell "Fire" to get anyone's attention, for two of the world's biggest rock stars to find a place where they could just be a couple of guys honing their craft, coming back down to Earth. Adam took bass lessons and found himself again after a career-threatening plunge into the bottle, while Larry…well, he was Larry. The two recorded the Mission Impossible Theme, and lived like normal people as much as possible. I'm not sure that would have been possible for them to do in any other city in the world.

Several years later, after the Popmart tour, which both celebrated and maligned all things excessive, the whole band returned to New York City for one of three intimate, low-frill club shows publicizing the All That You Can't Leave Behind album. More than that, though, the band were publicizing a return to something. I personally loved U2's output during the 90's. I love satire and spectacle, and I definitely don't mind extravagant rock stars, but I recognize that it's not something that the average person can relate to. The Irving Plaza show was all about U2 returning to their "humble roots" and making themselves relatable again. No costumes, no elaborate stage sets, just you and the band, looking each other in the eye. Again, this could only happen in New York, where the inescapable glitz and glamor that no rock star can escape become so commonplace as to be ignored. Only New York could serve as the bridge between the grime of everyday life and the gleam of celebrity that the band needed, and it paid off. ATYCLB garnered great reviews, and, more importantly, the band got some great press. Suddenly, it was OK to like U2 again.
Finally, no discussion of U2's relationship with New York would be complete without a look at the events following 9/11. Following that terrible tragedy, there was some discussion given as to whether or not U2 should continue with their planned tour, or just cancel the whole thing. Maybe the country needed time to grieve before we were ready to rock again. Thankfully, the decision was made to carry on as planned. Not far into the third leg of the Elevation tour, less than two months after the attack that destroyed the World Trade Center, U2 rolled in to New York City for three shows at Madison Square Garden. The first two shows were fine, memorable affairs of communal healing which included changes to lyrics based on the occasion, several fans brought on stage to participate, and screens on stage showing the names of all the victims from that day. The third scheduled show, October 27, 2001, though, is the one that went on to become legend in the annals of U2 history. During Walk On, itself a song about surviving adversity that could have been a theme song for the city that never gives up, a group of about 20 emergency workers, medical techs and firefighters, made their way up to the stage and lined up. One by one, Bono clasped hands with each of them, then marched them around the heart-shaped ramp in triumphant defiance. The show became less about U2 and more a joint celebration of survival and enduring decency in the face of mindless hate, no matter what corner of the planet you were from. After several minutes of cheers, and an exuberant performance of Out of Control, the workers began to speak. With a mixture of pride and grief, they talked about lost loved ones, they talked about sacrifice, and they talked about survival. Sure, there was a long way to go. I don't know if any of us, New Yorker or otherwise, will ever be what we were before 9/11, but on that night, U2 gave a little something back – not just entertainment, or the ability to forget your troubles for a while, but the opportunity to come together with people with whom you have nothing in common but humanity, and to have that be enough to start you down the road back.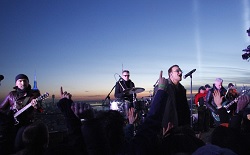 There have been plenty of other great U2 moments in New York, from the K*Mart press conference that launched Popmart, to U2 Way, which was the name given to a stretch of West 53rd Street for a short time in 2009. Heck, there was even a song named New York, but I believe that the events that I've cited above perfectly illustrate why the band feel such affection for the city so nice, they named it twice. It also demonstrates why it was chosen for the coming out party for the latest iteration of the Biggest Band in the World. More than the home of the Tonight Show, more than Times Square and Central Park, it's the people. The tough, jaded, down to earth people of New York City who've already seen it all, and only get excited for true brilliance. U2 know that, when it comes to New York City, if you can make it there, you can make it anywhere.
The following two tabs change content below.
broadsword
Ever since I realized as a kid, while poring over the liner notes of the Bob Marley - Songs of Freedom boxed set, that writing about music was a viable career choice, one of my greatest desires has been to write about U2. The band has been a major part of my life for as long as I can remember, and I'm thrilled to have this opportunity to contribute a little something to the fantastic online community that's been built around the band.
Latest posts by broadsword (see all)