I sat down today to try and come up with a list of the most important concerts of U2's career. Without hesitation, the first show that came to mind was the Sarajevo show from 09-23-1997. Although I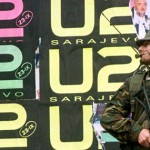 didn't attend (wouldn't THAT have been awesome?) I was lucky enough to catch a live broadcast of the show on the radio. I should also mention before going forward that this show is doubly important to me because it was my very first exposure to U2 live. I grew up in what you might call a sheltered home. You might also call it restricted, and although I knew I loved U2 from a very early age, the thought of attending a live concert, by any artist, was as foreign to me as the thought of wearing my mother's clothes. That is to say, I thought it could never happen. By the time I moved out on my own, and could make my own decisions, of course, funds were a problem. I couldn't even afford to buy a recording of a show on VHS, so forget about attending a concert! So it was that less than a month before my 20th birthday, I was living in a tiny apartment with my then-wife and newborn son. Like I said, times were tough.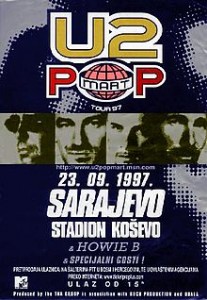 The show mostly followed what I now know was a pretty standard set-list for that tour. I enjoyed every second of it, of  course, but I was surprised at how much I enjoyed what I then thought of as the "old" songs. I Will Follow, and especially New Year's Day were two that fit that criteria and which came fairly early in the show. If I'm being honest, (and what's the point otherwise?) I had never really been much of a fan of New Year's Day before. I knew it was a hit for the band, and so I kind of felt obligated to like it, since I publicly professed that U2 was my favorite band, but in my heart of hearts, i thought it was a little boring. But hearing it live, on that day…I'm not ashamed to say that I wept. I'd never been so moved before.
Another thing about this show that I'll never forget is that Bono was having some serious problems with his vocals this day. This happens from time to time, and it was probably more frequent on the Popmart tour than any before or since. I read years later that Bono discovered around this time that he had an allergy to some specific wine that he was very fond of, and that was the cause of his difficulties. Now, I'm ashamed to say that I had no idea how important it was for the city of Sarajevo to be hosting U2, nor did I have any clue about the motivations that drove the band to play there. Honestly, all of that is a story for another time, but I promise, if you don't know the story, let me know, and some day I will give it it's proper due. That day is not today, though. I only mention it because Bono's voice was SO bad at this particular concert that I suspect the show would have been postponed or cancelled if it were any other show. To me, though, listening to he and the band courageously soldier on, despite the problems, was a life-changer. How anyone could say that rock 'n' roll is just entertainment, or that sport is just entertainment, (and I myself am guilty of that last one) or that any thing that any of us care about is unimportant, I will never understand, It's life itself. If anything that we do here on this planet matters, what makes it important is the way we do it. Carrying on when you don't feel like it, that's important, whether the thing you're doing is just going to work when you've got the flu, performing a concert for several thousand fans, surviving a ridiculous, shortsighted siege on your city, or trying to be a father and a husband at the age of 19 when you've got no idea how to hold yourself together, much less a family. That's what heroism is all about. I'm not saying that I'm a hero, mind you, but…I think we've all got greatness inside of us, and when we persevere through adversity, that's when we show it. Bono showed it on this night, as did the rest of the band in supporting him, and the people of
Sarajevo had done for too many years to count. Somehow, if this had been an easy show, it wouldn't have resonated like it did.
There's a lot more about this show that I could say, but I've already gone on long enough. I hope that what you've read here will motivate you to give it another listen, and if you've never heard it before, you shouldn't have too much trouble finding a decent copy to listen to. (In fact, just click the link below!) Next week, we'll meet here again and talk about another notable show from U2's history.
Popmusik

Mofo

I Will Follow

Gone

Even Better Than The Real Thing

Last Night On Earth

Until The End Of The World

New Years Day

Pride (In The Name Of Love)

Stand By Me

All I Want Is You

Staring at the Sun

Sunday Bloody Sunday

Bullet The Blue Sky

Please

Where The Streets Have No Name

Lemon-Intermission

Discotheque

If You Wear That Velvet Dress

With Or Without You

Miss Sarajevo

Hold Me, Thrill Me, Kiss Me, Kill Me

Mysterious-Ways

One

Unchained-Melody

The following two tabs change content below.
broadsword
Ever since I realized as a kid, while poring over the liner notes of the Bob Marley - Songs of Freedom boxed set, that writing about music was a viable career choice, one of my greatest desires has been to write about U2. The band has been a major part of my life for as long as I can remember, and I'm thrilled to have this opportunity to contribute a little something to the fantastic online community that's been built around the band.
Latest posts by broadsword (see all)