Twitter users report that U2 left the stage, or rather the roof, just over three hours ago, and although other details are scarce, what's known definitively is this: U2, by which I mean all four guys – not just Bono, not just Bono and Edge, nor even this gang of doppelgängers making the rounds as U-2, – ran through full-band performances of Invisible at least twice on the roof of NBC's headquarters earlier tonight in New York City, and they were joined by a marching band from Rutgers University in New Jersey, as well as about a hundred lucky fans who were permitted to watch the performance up close, with no barriers.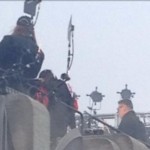 Spectators were required to sign non-disclosure agreements, and were forbidden from using their cameras, but we've managed to learn that the performance was filmed by a professional film crew, so my personal gut feeling is that the footage of tonight's performance will be used in tomorrow's Fallon broadcast alongside a live acoustic performance of Ordinary Love, likely from Bono and Edge. Whether or not Adam and Larry will be in attendance tomorrow, possibly for an interview, remains to be seen, but even if they're not it seems that there will be plenty of U2 related goodness to tune in for.
The following two tabs change content below.
broadsword
Ever since I realized as a kid, while poring over the liner notes of the Bob Marley - Songs of Freedom boxed set, that writing about music was a viable career choice, one of my greatest desires has been to write about U2. The band has been a major part of my life for as long as I can remember, and I'm thrilled to have this opportunity to contribute a little something to the fantastic online community that's been built around the band.
Latest posts by broadsword (see all)