This is my third year writing A Very U2 Christmas – and although this year's installment contains some of the same information as the 2015 and 2016 editions, there are some new additions that are oh-so-special. Like Bono not showing up to busk on Grafton street for the second year in a row due to safety concerns, I'm playing it safe by continuing to make sure you have every U2 Christmas song, lyric and reference there is for the third year in a row. Let's start with Pink Adam Santa. We still love him, but he's so 2016.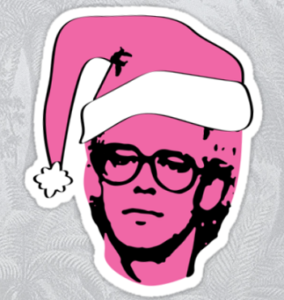 This year, it's all about Bono's Christmas cards! Our friends at U2Songs.com have shared several of them recently, because they know that all we U2ers want are Bono's treasures just to look upon it (and all the riches in the night, but that one's harder to pull off). Thanks to these good folks, we have seen three of Bono's Christmas cards for the recent past (dates were added by me). They're all hand-drawn Bono originals, and they're spectacular.
See u2songs Twitter feed http://twitter.com/u2songs
And then there's this year! As you may be aware, Helena Christensen posted the Christmas card Bono sent her this year on her Instagram. Unlike the hand-drawn cards above, it features the Songs of Experience album cover with Bono's handwriting personalizing the message. But guess what? It appears that Bono sent out two Christmas cards this year! With permission kindly granted from the recipient, Simon Hewson, I give you the second card as well. It is adorned with a highly recognizable tree you may have seen once or twice, plus six hearts and a hand-drawn star/garland; the logo printed on the inside is for the Peter McVerry Trust, a Dublin-based charity that aims to reduce homelessness, drug misuse and social disadvantage in Ireland.
Photo credit: Instagram @HelenaChristensen                                             Photo credit: Simon Hewson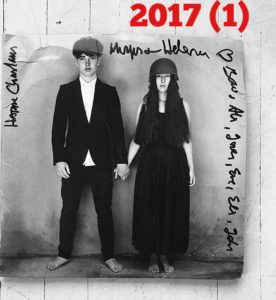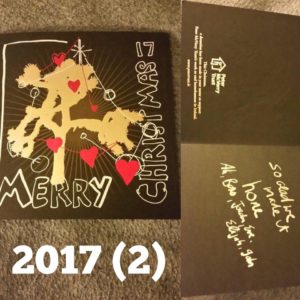 On a final note: Last year's A Very U2 Christmas installment was written before the band released its Christmas Day video – the one in which Bono announced "we have some special shows coming up" to celebrate the 30th anniversary of The Joshua Tree. As we now know, "some special shows" very quickly evolved into a massive world tour. When you consider that announcement was a mere 12 months ago…wow! I can see the lights in front of me. Here's the video again, followed by a repeat of the comprehensive A Very U2 Christmas list from the past two years. Enjoy and happy Christmas!
What's your favorite Very U2 Christmas song, lyric or reference? Could it be…
That Geldof-ian charity anthem from 1984 by Band Aid (which is Bono and a bunch of other people who are great but not quite as great as him), "Do They Know it's Christmas?" Guess what: There's a tribute to it that's way better than the 2014 reboot! It was done by some of the best musical tributes in the Los Angeles area, including Joe Hier of Hollywood U2 as Bono, who produced the whole thing (bonus: It was mixed and mastered by his very own The Edge, Hollywood U2's Stevie Adams). Watch the video here; the group, Tribute Band Aid, recommends donations to the official Band Aid 30 charity.
The aforementioned 2014 reboot of said song. Never heard it? Well tonight, thank God it's them instead of you. The cause is still great, but the song doesn't hold a candle to the original and Bono gets a whole different lyric! Boooo.
Also from 2014, one that some fans might not be aware of: Bono doing a spoken word intro for contemporary Christian artist Michael W. Smith on his album The Spirit of Christmas. The song is called "The Darkest Midnight," and although Bono doesn't sing on it, he whispers in a husky voice about the birth of Jesus at the beginning – making this a great one to add to your U2 Christmas repertoire! (Fun fact: The title How to Dismantle an Atomic Bomb has been linked to an answer Bono gave Michael W. Smith when Smith asked Bono how we can help solve the AIDS crisis in Africa. Here's one version of that story on @atU2.)
The 1987 U2 Christmas anthem for the ages, "(Christmas) Baby Please Come Home," U2's cover of Darlene Love's 1963 recording. Like all those times it joined Bing Crosby and David Bowie's "Little Drummer Boy" on the MTV Top 10 Christmas Countdown so many years ago, this U2 Christmas song still deserves recognition. How cool would it be to hear them perform this again? Let's get that trending, shall we?
The somber Christmas references in "If God Will Send His Angels" (Pop) or "Peace on Earth" (ATYCLB). From the first one:
Hear it every Christmas time
But hope and history won't rhyme
So what's it worth?
This peace on Earth
And from the second one: Does love light up your Christmas tree? It might just be one of the best lyrics on Pop.
From "Miss Sarajevo": Is there a time for tying ribbons? A time for Christmas trees?
"White as Snow," an incredible track from NLOTH that doesn't get its due – no Christmas references in the lyrics, but it is partially set to the tune of the Christmas hymn "O Come, O Come Emmanuel." When promoting No Line back in 2009, Bono spoke about this song with tremendous pride.
"I Believe in Father Christmas," the flawless U2 cover of Greg Lake's 1977 Christmas song. This one came out in 2008 with your annual Starbucks Christmas CD, benefiting (RED) for World Aids Day. I'm thinking this is my #1 U2 Christmas song. What's yours?
The following two tabs change content below.
Brook
U2 history seeker in the radical center. The air is so anxious; all my thoughts are so reckless. Contact via Twitter at @U2RadioBrook.