Some of us plan on visiting our local record store this weekend while others have no local record store to visit. Fortunately, we can all hear U2's contribution to Record Store Day, the remixed Red Hill Mining Town with new Bono vocals, thanks to the magic of the Internet (and, in a late-breaking twist, Spotify).
As moving as this release is, some of us may be wondering why Red Hill Mining Town is the only Joshua Tree track that was never played live. Fortunately, Bono furnished an answer last week on the Chris Evans radio show.
"We thought it was going to be our second single," he said. "We were very excited about it at the time. We got very excited, we made a video for it. But the song just kind of slipped away from us."
"I used to write songs that I couldn't sing," he continued, explaining that the drama of missing notes would "really just wreck the next show."
"So I just left Red Hill Mining Town off," he concluded. "But since then, I sing a bit better…or at least I've learned how to sing. I was more of a shouter coming from the punk rock tr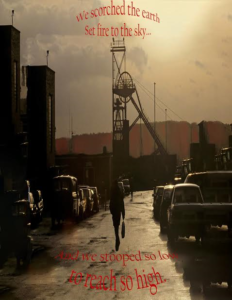 adition."
There's our answer! This interview also references where the family record player lives in the Hewson and Evans homes, the time U2 had a "skipping cassette," and the unexpected singer Bono originally wrote Red Hill Mining Town for in his head (hint: his name rhymes with "Schmo Schmocker" and he is so beautiful to us).
Footnote: Does anyone get the gang back together better than U2? You can bring in your Floods, your Danger Mouses (Danger Mice?), and your your Ryan Tedders from time to time, but Steve Lillywhite, Brian Eno and Daniel Lanois are permanent fixtures of U2 – just one more reason they're the greatest.
Second footnote: This blog post is really an excuse to show off my Red Hill Mining Town artwork. The original photo is from Time magazine and has been enhanced by yours truly.
The following two tabs change content below.
Brook
U2 history seeker in the radical center. The air is so anxious; all my thoughts are so reckless. Contact via Twitter at @U2RadioBrook.