There's palpable excitement in the world of U2 right now, what with all the rumors, rumors of rumors and rumors of rumors of rumors – all of which could possibly be clarified in a press conference on January 9th, according to U2 Chile (which is yet another rumor). As a proud resident of Southern California, at least one of the rumors has me thrilled beyond measure: The one about the commemorative Joshua Tree 30th anniversary tour kicking off at the Rose Bowl (!!!!!).
Of course, I know better than to take any one rumor as gospel; after all, the universe exploded 'cos-a one man's lie (as it did for the U2-niverse a few months ago, when we all thought there would be a new single before Dreamforce). With that in mind (and in the spirit of Bono and Edge's pun-filled promo video for the Omaze contest), here are some U2-related ways to calm yourself as you await for these rumors to be confirmed:
Run to stand still
Remember that everything you know is wrong (it was for that aforementioned fall single rumor)
Post a notice on the billboard of your local high school that says "Drummer seeks musicians to form band," then go home and wait for some kids to show up in your kitchen
Give all your friends intelligent nicknames, drawing inspiration from a physical feature like head shape, or perhaps the name of a local hearing aid shop you happen upon whilst strolling through town (especially if the name is German)
Bleach your hair white, spike it up high, splash on a fine men's fragrance and pose like you're holding a nice cup of tea (that one's for Adam!)
Write a great song about California, a terrible song about Miami and an above-average song about New York
Make a speech about Donald Trump (I kid, I kid)
And of course…
Rumored dates/venues for a #U2JT30 tour include May 20, Rose Bowl CA; June 24, MetLife Stadium NJ; sometime in May in Mexico City, and sometime in July in Spain/Italy.
And Songs of Experience? Well, speaking of Joshua Tree…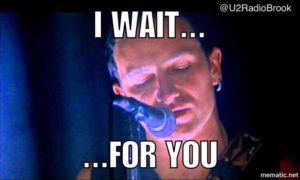 The following two tabs change content below.
Brook
U2 history seeker in the radical center. The air is so anxious; all my thoughts are so reckless. Contact via Twitter at @U2RadioBrook.