U2's 1991 album, Achtung Baby, celebrates its 25th anniversary today. Released on November 18, 1991, the album debuted at #1 on the Billboard 200, and has been certified eight-times platinum.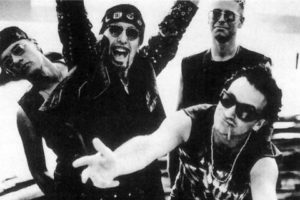 Achtung Baby was released three years after U2's previous album, the companion to the Irish rocker's 1988 documentary Rattle and Hum, which was panned by critics. Moving away from the Americana sounds of Rattle and Hum, the band went back to more of an alternative-rock sound for Achtung Baby, while also adding elements of industrial and electronic music. The new sound was prevalent in songs like the funk-rock-inflected "Mysterious Ways" and the hip-hop-influenced "The Fly."
U2 began recording Achtung Baby in Germany's Hansa Studios just a year after the fall of the Berlin Wall. Though the band hoped to be inspired by German reunification, Achtung Baby became a very dark and personal album. The members of U2 fought throughout the recording sessions, though things started to really come together when they wrote "One," which has since become one of the band's biggest and most well-known songs.
U2 supported Achtung Baby with the Zoo TV tour, which used elaborate visuals and other multimedia to emphasize the theme of "sensory overload." Throughout the trek, Bono would dress up as different characters, and the band embraced a more humorous and ironic tone.
Following Achtung Baby, U2 dove further into electronic music with 1993's Zooropa and 1997's Pop before returning to a more traditional rock sound with 2000's All That You Can't Leave Behind.
Considered by many to be one of U2's greatest works, Achtung Baby has sold 18 million copies worldwide. It returned the band to critical favor, and paved the way for the group's continued musical exploration.
Copyright © 2016, ABC Radio. All rights reserved.
The following two tabs change content below.
A starter, technology nut, father of three, and a husband to one. Curator of U2 Radio.