If you've watched the show South Park recently, you might be familiar with the concept of "member berries." If not, I'll fill you in: Essentially, these animated grapes are the show's current device for mocking the adult characters – specifically, the way we modern grown-ups get hyper-nostalgic about the pop culture fixtures of our younger days. When one of the parent characters eats a member berry, the entire cluster of fruit starts talking to him: "Member Star Wars? Member Voltron? You loved Voltron…member Raiders of the Lost Ark? Member?" The character sighs contentedly and says, "I remember." Then he eats the berry.
I'm having my own member berry moments right now with U2 – but unfortunately, taking a literal bite out of one of them isn't an option at the moment (which sucks, because I imagine Larry would go down pretty smooth and Adam would taste like a fine caviar). So instead, I'm left with the lingering ache of unsatisfied nostalgia.
"But you still have the music!" Of course. Fortunately, it will always be there (no matter how long it takes for SOE, there are 13 other albums in the catalog so we're good there). But here's what I'm missing right now:
"No more!"…and "Eff the revolution!"…and "Turn this song into a prayer"
"This is a song written about a man in a shanty town outside of Johannesburg…Am I bugging ya? I don't mean to bug ya." (PS, happy anniversary Rattle & Hum!)
Paper masks of Aung San Suu Kyi
So many 9/11 tributes – unifying, glorious and beautiful
"We're not looking for your money; we're looking for your voice."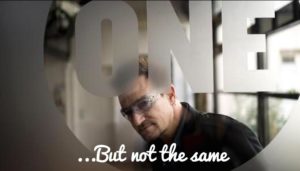 What do these things have in common? They're all examples of U2 speaking out on causes that didn't divide its fans into two camps. These things didn't prompt lifelong fans to lash out at each other over political differences; they were universally beloved causes among U2 fans. In fact, many of them are things we never would have known about if it weren't for Bono. So these things are what the U2 member berries in the proverbial fridge of my mind are saying to me right now, and I'm about to eat every last one of them.
See, U2 fans who don't want to be lectured about who to vote for are not people telling Bono to "shut up and sing." They aren't people who "don't understand that Bono's always been political." The truth is, they don't want Bono to shut up and they know full well he has always been politically-driven. Heck, many of them love politics themselves. But in a year of election, they just want him to allow democracy to do its thing without his interference. They aren't dangerous or harmful – and they certainly aren't fake fans. But they also know Bono isn't God, so they're okay with not agreeing with him on everything. It really is that simple.
Furthermore, they are by and large people who interpret "one but not the same" as literally as it can possibly be interpreted – rather than "we're one but not the same, we get to carry each other until I don't agree with you and then I'm going to publicly shame you and say that you must be purged from the general fan base." They don't mind staying quiet about differences, until they reach a breaking point – and for some of them, that breaking point happened about a week-and-a-half ago. It's okay; they still love U2. And with three weeks left until the colossal train wreck otherwise known as the U.S. presidential election comes to a horrifically screeching halt, it won't be long before we all go back to being the amenable people we once were to each other. At least that's my hope.
I try to spit it out. I try to explain…the way I feel…oh, yeah <3 <3
In closing…
Baby don't fight
We can talk this thing through
It's not a big problem
It's just me and you
You can call or I'll phone
The TV is still on
But the sound is turned down
And the troops on the ground
Are about to dig in
And I wonder….WHERE IS THE LOVE?
The following two tabs change content below.
Brook
U2 history seeker in the radical center. The air is so anxious; all my thoughts are so reckless. Contact via Twitter at @U2RadioBrook.