As a creative writer and as an amateur journalist, I love a good one-liner. I'm always looking for a solid soundbite for a story or an article, something short and punchy and memorable. And whether you love it or you hate it, NLOTH is full of them, and Get On Your Boots in particular is a goldmine. (Actually, come to think of it, Bono himself is a goldmine in that regard.)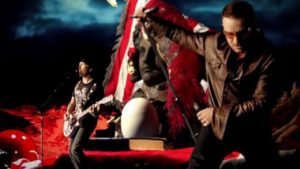 For myself, I love this song, and I'm not quite sure why so many fans dislike it. Maybe it's the quotability of Bono's catchphrases, or maybe it's Adam's refreshingly funky bass line, or maybe it's just the catchy "let me in the sound" chant…but whatever the reason, I like it. As my brother says, "It's quaint." And for the record, no, neither of us has any idea what he meant by that, and neither of us is quite sure why we agree that he's correct. This song just has some sort of spark that connects with us and we can't put our finger on the reason why.
Whatever the case, the song's lyrics, like most U2 songs, are an interesting puzzle to unravel. From what I understand, the inspiration of the song came from Bono witnessing planes flying to Iraq while he was with his family at an amusement park in France, and Edge has commented that the song could be about "letting women take over" to fix the mistakes that men have made (thanks, Wikipedia!).
With that in mind, you can see the juxtaposition of happiness and uncertainty throughout the song.
"Winds blow with a twist," and "night is falling everywhere," but the person the speaker is talking to—in Bono's case, probably Ali—isn't scared of any of it. Even though there are "rockets at the fun fair," danger where there is supposed to be safety, the person who's the focus of the song knows that the "bomb scare" is just that—a scare.
Candy floss and ice cream, two amusement park staples, are contrasted with dark dreams, but despite the potential for trouble, "the ghosts aren't real."
Much of what Bono does with his lyrics is dichotomy. He apparently loves dichotomy almost as much as I do, and this song isn't any different. By pairing up good with evil, and by throwing evil into places that are inherently innocent and good, Bono is showcasing two of the greatest fears of humanity: the fear that the things we love might soon be gone and destroyed in the shadows of war, and the fear that the places we think are safe might not be as secure as we hope.
Amusement parks and children shouldn't mix with Satan and screams, but too often, they do, and the worst nightmare of every parent is that their family is put in danger.
"Laughter is eternity if joy is real." Every time I hear that line, I have to repeat it to myself silently just to feel and absorb the words.
Yet Bono doesn't focus on the negatives and the danger. Instead, he follows up the shadowy images with this:
"Here's where we gotta be, love and community,
Laughter is eternity if joy is real."
"Laughter is eternity if joy is real." Every time I hear that line, I have to repeat it to myself silently just to feel and absorb the words. Because it's true. Joy is one of the fruits of the spirit, and laughter is an expression of that joy. Both are gifts from God, and both will last far longer than evil ever will. It's this joy and hope that keeps people going even in the darkest of times. That's why, even if there are warplanes flying overhead, humanity will live on and continue to keep moving forward.
Something else that will last longer than evil is beauty. Most U2 songs are love songs at heart, and no matter what lofty theme our favorite Irishmen are tackling, love will always be the loftiest. Even though this song takes on ideas of war, peace, innocence, and darkness, it also is a love song. Whether this song makes you think of family, children, joy, a spouse, a close loved one, or just that person in your life who doesn't know how beautiful they are, this song expresses love for all of the people and experiences that make our lives special and keep us afloat in rough waters.
In many ways, Get On Your Boots is a message about overcoming darkness, and the simple love that we experience on a daily basis—love for family, for good days, for rollercoasters, and for so much more—give us the strength we need to survive any hardship and any "war between nations."
The following two tabs change content below.
Lieutenant
My friends call me Lieutenant. I'm a Christian, a Trekkie, and a college student with a love of writing, history, pineapples, and literature.
Latest posts by Lieutenant (see all)