I've been hearing it for months: "You'll love seeing them in Boston"…"there's nothing like seeing U2 in Boston"…"Boston is U2's favorite city in America." I believed it – kind of. Now, I get it. I get it! U2 fans in Boston are unlike any U2 fans I've seen (of course, before last weekend I had only seen them on the West Coast). Let me put it this way: I've met lots of Mexican and South American fans, and they are by far the most passionate fans at the LA shows. They get U2 in a way I wish other fans in my area did. But Boston gets U2 even more.
And…and…AND, the night one curse I lamented about here was broken! Never again will I say that U2 shortchanges the night one fans. In fact – and I know some will disagree – I believe the night one fans got the best show of the Boston residency. There, I said it! Three major reasons why:
– Bad
– Shine Like Stars coda
– 40
That's why. Plus, it was the last show before what fans on Twitter are calling Setlist Shakeup 2015 commenced (thanks to @Born4Bliss for that!), wherein all kinds of pre-encore/post-encore changes I can barely keep up with happened. So there you have it: why Boston 1 was the best!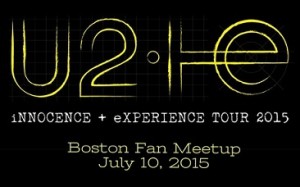 My U2 Boston experience was only made better by finally meeting and hanging out with some of the best U2 peeps on the web at the meetups before and after the show, including my friends Cup of Joe (I believe you know him), the beautiful Adrienne (@BonoGirl4Love) and so many others; I made 16 swag magnets and managed to keep one (that's a good thing, because it means I met enough nice people to give out the rest to). Where else can you congregate with U2 fans from California (okay, that's me), New York, Pennsylvania, North Carolina, Florida, Maine, Colorado, Canada, Spain and oh, Ireland? Boston, guys! If you're going to see U2 in any city that's not yours, Boston is the place to be.
Capping off the weekend was the Red Sox vs. Yankees game, where I gave panic attacks to those around me by shrieking "Holy crap!" when our favorite drummer was spotted on the screen. To my delight, he was about 10 rows ahead of me – but to my chagrin, an official-looking lady escorted him out after the third inning (presumably to enjoy the game with air conditioning and shade) and she wasn't letting anyone near him. But before that happened, I got to see him apply sunscreen! That's right everyone, Larry Mullen Jr. keeps that fair Irish skin protected with some rock solid SPF. Where else are you going to get this kind of hard-hitting analysis? Only here at U2 Radio.
The only negative about night one was that it was the only night none of the boys did a greeting lineup. So my Red Sox experience was the closest I got to meeting any of them, and on subsequent nights, the awesome associates I had been with that day were able to meet Larry and/or touch Bono (although poor Adrienne got pushed away before he could sign her arm for her tattoo! Be nice out there, people! This is a peaceful band). Meanwhile, Torrey from Maine (@TorreyViger) had an uber-lucky week, meeting and greeting all over the place and even having a drink with Norman Hewson! That's my goal for next time: to have as many lucky run-ins as Torrey.
Miami, New Orleans, London, Belfast…they're great I'm sure, but you want to see U2 in Massachusetts! Do it at least once and thank me later.
The following two tabs change content below.
Brook
U2 history seeker in the radical center. The air is so anxious; all my thoughts are so reckless. Contact via Twitter at @U2RadioBrook.