With the breaking news that U2's only tour manager, Dennis Sheehan, passed away after last night's show, tonight is bound to be emotional. Despite that, I have the distinct honor of giving U2 Radio's first U2 Innocence + Experience Tour review (meaning I was there in person – as opposed to a recap, which would mean I just watched as much of it as possible via Periscope). By now, you've seen the setlist and you probably know a few tidbits: The Wanderer intermission seems permanent, One was the closer and we got COBL instead of Miracle Drug.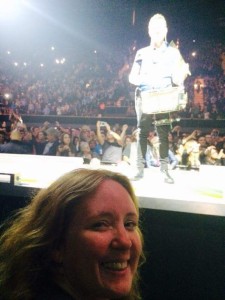 Blah blah blah…you can see that anywhere. The one thing I can say that you won't see everywhere else is this: If you haven't seen the show yet, be prepared to be amazed no matter how many times you've watched it online. For me, all my – we'll call them "disagreements" – with the setlist, song arrangements and upsetting lack of traditional Bono codas went out the window the moment U2 hit the stage. I instantly stopped caring that Pride is overplayed, that Mysterious Ways needs to take a 10-year nap and that we may never hear the WOWY "shine like stars" coda again. The energy of the crowd singing along to these timeless U2 songs completely overshadowed that. For that matter, this show has caused me to totally rethink what I've been saying for years: That U2 has too many fake fans, especially in LA (a theory that was reinforced for me 100 times over after attending the 2009 Rose Bowl show). Maybe it's the smaller venues this time around, or maybe it's the progress the fan community has made thanks to social media – or, maybe U2 are the geniuses we always knew they were and the major world event (so it would seem, depending on who you ask) that was the Apple deal actually worked.
Now, one of my favorite moments from the show: When Joe Hier of Hollywood U2 was noticed by Bono (I saw it happen!) and then pulled onstage for The Sweetest Thing (which I totally predicted would happen…there's no proof I predicted this, but I promise you I thought that it might!). Joe was not going to stand for merely filming the band with Bono's iPhone (I assume) for Meerkat; instead, he showed Bono his stuff and our guy was clearly impressed. Here's the video we shot of him showing Bono a mirror image of his Vertigo-era self, which led Bono to hand him the mic (GASP) and let him run with it. What an amazing moment! When I asked Joe to describe his experience, he told me, "I was beside myself." He even has Bono's sense of humor! The story has been picked up all over the place today, including the New York Post. Watch the fun unfold below!
The following two tabs change content below.
Brook
U2 history seeker in the radical center. The air is so anxious; all my thoughts are so reckless. Contact via Twitter at @U2RadioBrook.