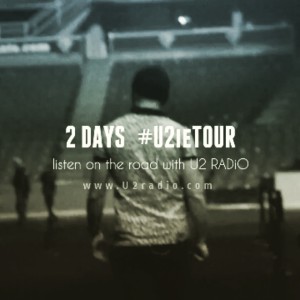 In a little over 48 hours U2 will be coming out on stage in Vancouver to a throng of fans from all over the world. Many fans have traveled thousands of miles to take in the opening night of the Innocence + Experience  tour. The run up to opening night hasn't gone without its troubles, we all know about Bono bike accident, that seriously delayed things early on with healing and recuperation, there's also news yesterday that Larry Mullen Jr's father Larry Mullen Sr passed away on Sunday in Dublin at the age of 92.
Our hearts go out to the Mullen family, and friends during this time. What a whirlwind of emotion it must be right now for the band to be dealing with such adversity all the while trying to put together what will most likely be the biggest tour this year and next. It's a good thing that U2 are so grounded and have the friendship between them to carry each other through this very busy and complicated week.
Reports are that the shows will go on, and that the band will be traveling back to Dublin for Larry's father's funeral, maybe tomorrow or Thursday before the show. They may schedule the funeral service on the weekend after the two Vancouver shows. Either way a sad time in the U2 family, but right now "we get to carry each other" to rip a line from the song One.
One love, one blood, one life, you got to do what you should.
One life with each other: sisters, brothers.
One life, but we're not the same.
We get to carry each other, carry each other.
One, one.
To all who are traveling this week to Vancouver, be safe, have fun, and share with us your experience!
The following two tabs change content below.