I'm not sure why, but the Passengers album has been on my mind lately. Although it's not technically a U2 record, I hope that no one will object if I talk a little about it today. The first time I ever heard Passengers, I was in my buddy Travis's car, late at night in a Wal*Mart parking lot. Travis was a pretty big U2 fan also, and he told me one day that he'd heard about a new U2 record, only it wasn't called U2 – it was some other name. My interest was piqued, and so we went to the store that very night to see what we could dig up. We found the album without too much trouble and we took it out to Travis's car where we listened to it several times over, sitting in the parking lot outside the store. I remember that I didn't know quite what to make of it all that night, but even so, a few tracks stood out to me. One was "Your Blue Room", which was later included as a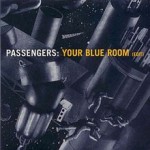 B-side on U2's Staring at the Sun single. I recall reading once upon a time that the song is one of Bono's favorite things that the band have ever recorded, and it's not hard to see why. To this day, no other song that I've ever heard makes me feel mellow and chill quite like "Your Blue Room". The song also strikes me as vaguely erotic, although I can't quite put my finger on why. It's all very hazy and unfocused, like an apartment I visited recently wherein the air was heavy with the scent of hookah smoke. Of course, the song is also notable for containing one of the very few verbal contributions from Adam Clayton, who recites a bit of poetry at the tail end of the song.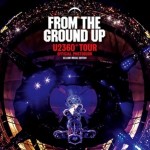 Like most of the album that "Your Blue Room" originally appeared upon, (the obvious exception being "Miss Sarajevo") the song hasn't been performed live a great number of times. In fact, it's made a grand total of seven live appearances, all coming on the first North American leg of the 360 tour, back in late 2009. Predictably for something so artsy, the song wasn't a great hit with live audiences, but it still managed to be captured for later inclusion on U2.com's From the Ground Up collection. In light of the song's somewhat obscure source, I suppose it's a minor miracle that it was ever played at all, and I'd be very surprised if it ever appears at another U2 concert. Still, it seemed oddly appropriate given the 360 tour's spacy theme, and it was a beautiful moment when the band played the song.
The following two tabs change content below.
broadsword
Ever since I realized as a kid, while poring over the liner notes of the Bob Marley - Songs of Freedom boxed set, that writing about music was a viable career choice, one of my greatest desires has been to write about U2. The band has been a major part of my life for as long as I can remember, and I'm thrilled to have this opportunity to contribute a little something to the fantastic online community that's been built around the band.
Latest posts by broadsword (see all)