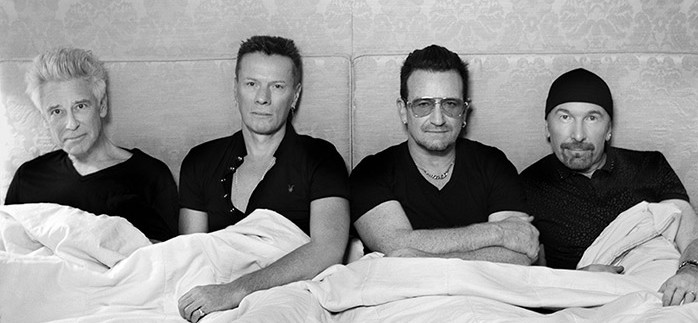 Gee, is there anything going on in U2 news this week? Oh not much, just a TOUR ANNOUNCEMENT! So here's what I want to know from you right now:
Are you an Innocence member or an Experience member?
If you're an Innocence member, how pissed are you that they did that? Grrr.
What's your number one #U2Request for your show? Mine's "Bad," which I think we have a good chance of getting because they seem to incorporate it more with every tour.
How much do you love the "U2 in bed together" promo photo, and how does it compare to U2 promo photos of the past? For me, it's better than the iconic Joshua Tree cover, the artsy Achtung collage, the happily gallivanting around Morocco shoot for NLOTH and the ATYCLB Paris airport promos combined.
Are you wondering how Bono made it back to Dublin with nary a peep until Bill Clinton informed us about it on World AIDS Day? That has to be the most clandestine hospital discharge in history.
And finally…
Was Bruce Springsteen channeling an obscure Hannah Barbara cartoon character from the 60s while standing in for Bono? The answer to that is yes.
What are your answers, and what U2 questions are you asking right now? Please post below.
The following two tabs change content below.
Brook
U2 history seeker in the radical center. The air is so anxious; all my thoughts are so reckless. Contact via Twitter at @U2RadioBrook.