In the past 48 hours, something has become very clear: If Bono wants to live, he must avoid Germany at all costs. It's been four years since Bono broke his back in Deutschland, after which he was treated by the famed Dr. Hans-Wilhelm Müller-Wohlfahrt (see a fun comment on his name here around the 4:52 mark), forcing the 360 Tour into hiatus for more than a year. Obviously, Bono has been back to Germany since then and has managed to come back unharmed. As we know, the band filmed "From the Sky Down" in Berlin in 2011 with nary an injury among them; plus, being the globetrotter that is Bono, he has probably returned a few more times in the interim. But alas, Bono's lucky streak with Germany came to a screeching halt Thursday when the tailgate of his Learjet fell off. The tailgate of his plane fell. Off. Fell off. Let that sink in.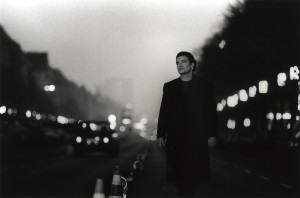 And then, the door flew open at 30,000 feet. Early reports led us to believe that it was actually the cabin door (thanks, British press), but as it turns out it was actually the luggage compartment door under the cabin, whereupon two pieces of luggage went tumbling out of the plane and (we can presume) an elderly band of gypsies was delighted to receive the plush leather coat, high end hair product and $3,000 Versace sunglasses falling from the sky. Good for them, but bad for Bono. The only reasonable conclusion? The home of Zoo Station is bad luck. I know: We don't believe in luck – grace abounds, grace abounds – but because of Bono's track record with Germany, he may want to rethink any subsequent visits on the schedule. Is receiving an award named after an orphaned cartoon deer really worth it? And yes, that goes for the tour too. I don't want to purchase tickets to a show that gets postponed by 13 months again, thanks – and you don't either. German fans can go see U2 in Switzerland this time around. It's only fair.
Yes, I'm serious: If Bono wants to live long enough to ironically change the lyrics of "Hold Me, Thrill Me" during live performances to "They'll want the money back if you're alive at 63," he should exercise extreme achtung by heeding my warning and avoid the place that inspired one of U2's most beloved albums. That's right, I said it. I'm saving your life here, Bono. You're welcome.
The following two tabs change content below.
Brook
U2 history seeker in the radical center. The air is so anxious; all my thoughts are so reckless. Contact via Twitter at @U2RadioBrook.