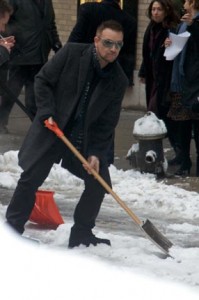 It's a fact: Bono loves snow. Yes, seriously. Don't believe me? Keep reading.
"And you know it's time to go
Through the sleet and driving snow
Across the fields of mourning to a light that's in the distance."
– "A Sort of Homecoming"
If this lyric is any indication, Bono has had a thing for snow for a solid 30 years. If the "New Year's Day" video is any indication, he's had a thing for a "world in white" for even longer. Perhaps his interest in it lagged for a while, because there are few, if any, references to snow after The Unforgettable Fire was released in 1984; no, the cover of "Baby, Please Come Home" doesn't count – unless you really want it to. The snow's coming down, he's watching it fall. Okay, fine; it counts! But as the 1990s kicked off and Bono morphed into a Mirrorball Man, a British devil named MacPhisto and a boxer with a cartoonish foam pad on his abs, his interest in snow clearly began to wane.
The good news is, it came back in a big way! The early 2000s had lots of references to rain in U2 lyrics, but that rain clearly froze over – because by 2009, Bono told us that when he and his brother would go hunting in the woods, their faces were as "pale as the dirty snow." It made such an impression on him that he put "snow" in the title of the song.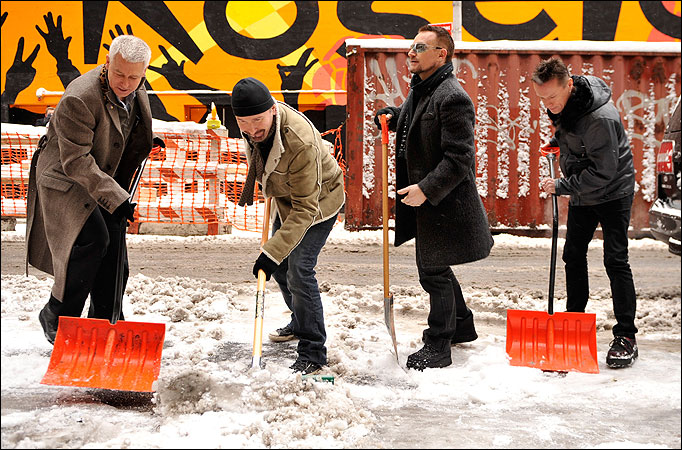 And, that was the same year that he pointed out during "Moment of Surrender" (not on the album lyrics, but when performing live), "When I first met you, your face was like snow." This awesome little Bono rap ditty was googled by U2 fans all throughout the 360 Tour, and now, I'm guessing I'm not the only U2 Radio listener who prefers the live version over the album track, partially because of this addition.
What's even cooler (pardon the pun) is that Bono isn't done with snow yet. We know this because "Invisible" told us that someone's "frozen days" and "frozen ways" would "Melt away your face like snow." Is that for his dad? I sure think so!
So, will the next U2 album have any odes to snow? It certainly could; let's just hope that we all get to hear it before it's the snowy season *big, heaving sigh*.
The following two tabs change content below.
Brook
U2 history seeker in the radical center. The air is so anxious; all my thoughts are so reckless. Contact via Twitter at @U2RadioBrook.