June 30, 2009 was like any other day for me – other than the fact that I was salivating at my desk, waiting for someone, anyone who had attended the kickoff of the 360 Tour in Barcelona to upload a clip to YouTube. Thanks to the nine hour time difference between California and Spain, the vids started posting by late afternoon – and finally, I had my fix! If you were a U2 fan excited about the 360 Tour five years ago, you understand; maybe you did the same thing.
Unfortunately, it would be another four months before the band would reach my neck of the woods – but what a show it was! The U2 360 Rose Bowl show set the record for highest attendance at one U.S. show by a single headliner (that's according to Billboard, by the way), with an audience of 97,014. Now, were all of those people U2 superfans? Unfortunately, no.
That's one of the drawbacks of seeing U2 in Southern California. Too many people here go to concerts for the sake of going to concerts. They regard seeing U2 the way lots of us regard seeing the Rolling Stones: You want to do it, just to say you have. That's why, at any U2 show in LA, it's not unusual for a diehard fan like myself to be the only person singing along to the newer songs (or even many of the older ones, for that matter). But that's okay, because if we are located near the stage, it improves our chances of getting noticed by the band! One moment that I'd like to think had something to do with my clear devotion to the band is pictured here; it was during "The Unforgettable Fire" (the band did an incredible arrangement of this for the 360 shows), and it involves Bono looking down from the bridge to the crowd underneath, where I just happened to be standing. Was he looking at all of us, or just me? I'd like to think it was just me.
First, let me tell you what I loved about the U2 360 Tour, and specifically, the Rose Bowl show. Some will disagree, but I loved The Claw. It was monstrous; it was spectacular; it was impossible to ignore. It made a statement, and that statement was, "U2 is here" – period. Whether or not you were going to the show, you could not be unaware of U2's presence in your city for that night.
Likewise, I loved the space theme. It didn't necessarily tie into "No Line on the Horizon," but U2 isn't about theming its concer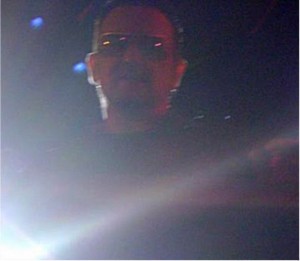 t tours in lockstep with an album title. That simplistic branding style is much more suitable for legacy acts – and as we've been hearing for the past several years, U2 is not, nor will they ever be, a legacy act! (After all, that's supposedly the reason why the new album is taking so long. Supposedly.) During the 360 Tour, references to the space theme included:
The David Bowie "Major Tom" intro. People sang along, which made it a fun way for the crowd to get pumped up before U2 walked onstage. I will give my fellow close-to-the-stage crowd mates some credit: Almost everyone seemed to understand the tour's space theme, and that Major Tom was our signal for U2's figurative "landing."
The pre-taped interlude by Frank DeWinne of the International Space Station during "In a Little While." DeWinne quoted the lyrics, "A man takes a rocketship into the skies; he lives on star that's dying in the night. And follows in the trail, the scatter of light." At the Rose Bowl show (I'm guessing other shows as well), Bono addresses him by name, saying, "Thank you for joining us this evening. Safe home!" Sure, we knew the tape wasn't live – but it was awesome nonetheless!
On the final leg of the tour, Commander Mark Kelly replaced Frank DeWinne with a pre-taped video wherein he spelled out "Beautiful Day" on paper and quoted the Major Tom lyric, "Tell my wife I love her very much – she knows." It was a beautiful reference to his wife, former Congresswoman Gaby Giffords, who was almost fatally injured earlier in the year.
After the show, Elton John's "Rocketman" played over the audio as the crowd filed out.
Specific to the Rose Bowl show, there were other references to the space theme. Before singing "No Line on the Horizon," Bono said, "We've got old songs; we've got new songs; we've got songs we can barely play. We've got a spaceship…but it 'aint going nowhere without you!" I love it anytime Bono acknowledges the band's real experiences together, so it was fun to hear him admit that some songs are difficult to play. Of course, you're left to wonder: Which ones?
As most fans know, the next U.S. leg of the U2 360 Tour was postponed due to Bono's back injury. This gave the band plenty of time (a little too much time, if you ask me) to re-tool the entire show. By the time I saw them again in Anaheim in June 2011, they were opening with "Even Better than the Real Thing," and a whole mess of NLOTH songs were cut from the setlist. That included the underrated masterpiece "Breathe," which was, sadly, also cut from the DVD release of the Rose Bowl show. I was a little annoyed that the band wanted to give viewers the impression that the first song played during the show was actually "Get on Your Boots." Not cool, guys!
What I was happy about, however, was that I appeared with my husband for about one-eighth of a nanosecond on the DVD – and what's more, we appeared right after Bono! During "Walk On," there is an interlude where Bono leads the crowd in a clapping exercise (sorry, I'm not sure what else to call it) for Aung San Suu Kyi. Right after he begins clapping, the camera cut to a very blurry couple wearing gray. And that couple, my friends, is us! If it weren't for my husband's glasses and the major height difference between us, I would probably not have noticed. But there we were, and I'd like to think that it had something to do with our (okay, my) extreme displays of superfandom during this show. Because even 20 feet from the stage, there just aren't that many serious fans at a U2 show in LA – yes, even in a crowd of nearly 100,000. What was your experience at the U2 360 Tour? Tell me about it in the comments!
The following two tabs change content below.
Brook
U2 history seeker in the radical center. The air is so anxious; all my thoughts are so reckless. Contact via Twitter at @U2RadioBrook.