It's tricky sometimes to keep up with Larry, especially since he takes such efforts to maintain a bubble of privacy around himself and his family. Because of this desire for privacy, it doesn't surprise me that Larry might suffer through a serious health problem and never tell the fans. That's his right – I'm kind of big on privacy, myself, and I don't begrudge him that desire at all. It does mean, though, that the fan's only recourse is to guess. We all know that Larry was in an accident back in the late 80's which damaged his back. He had surgery to repair the injury while the rest of the band were recording Pop, but sometimes, if the damage is serious enough, the best that surgery can do is to stave off the problem for a bit. Some people require periodic hospital visits for the rest of their lives. We know that Larry's experienced at least some trouble with his back since then, as evidenced in this YouTube video. I don't have anything to go on here except for my own observations, but I honestly believe that Larry's back was acting up again earlier this year, and that that played a large role in some of the ambiguity regarding when the album might come out.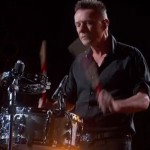 My suspicions began with the band's appearance on The Tonight Show with Jimmy Fallon. I thought it was strange that Larry didn't take a seat on the couch with the rest of the band. I even wrote something about it for this site – (see this article). Then, during the Oscars, Larry looked extremely uncomfortable – I'd almost even say awkward – while playing the drums onstage, and seemed to wince every time he brought his right hand down to strike the drum. I was getting worried, (concern which our own JoePit apparently shared) but when I saw the band paying their video tribute to Mike Peters of The Alarm, I was almost certain that Larry's back was playing up. Larry has never been what I would call "effusive", but in this video, the rest of the band are clapping and singing while Larry leans stiffly against the stair railing, barely even looking at the camera. It sure looks to me like Larry's not feeling too well. That was around the middle of April.
Near the end of April, Adam started making the rounds to draw attention to the "Walk in My Shoes" charity that he's working with, and he's made statements that sound like things have improved – like the band are at a place where they're hopeful that they might, indeed, have the record out this year. Then around the middle of May, someone discovered what appears to be a placeholder in U2's discography listing on their site, indicating that the album might be out in November of this year – (follow this link), and Larry's started showing up in public again, smiling and looking comfortable in several fan pics over the last few weeks. Maybe he had surgery, or maybe he got some more of those "bull's blood" injections, or maybe I just love conspiracies a little too much, but it looks like Larry's back on track, and suddenly so is the album. Whatever the case, I'm definitely not complaining. The sooner I get that record in my hands, the better.
The following two tabs change content below.
broadsword
Ever since I realized as a kid, while poring over the liner notes of the Bob Marley - Songs of Freedom boxed set, that writing about music was a viable career choice, one of my greatest desires has been to write about U2. The band has been a major part of my life for as long as I can remember, and I'm thrilled to have this opportunity to contribute a little something to the fantastic online community that's been built around the band.
Latest posts by broadsword (see all)