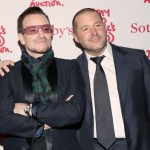 On June 21st The organizers of the 61st Cannes Lions International Festival of Creativity will be awarding U2's Bono with the first ever Cannes LionHeart Award for his charitable work via (RED). The award is being given due to Bono's "creative fusion of branding, activism and philanthropy that has generated more than $250 million for the fight against AIDS in Africa."
Bono will be awarded the LionHeart award on Saturday June 21st at the final award ceremony on Saturday evening of the festival week.
A Conversation with Bono and Jonathan Ive, moderated by Shane Smith will also take place on Saturday June 21st at 15:15 hrs. This exclusive seminar for Cannes Lions delegates, Bono will join Jonathan Ive, Apple Inc's Senior Vice President of Design, in a discussion moderated by Shane Smith, CEO and Founder of VICE Media, and introduced by Anne Finucane, Global Strategy and Marketing Officer of (RED) partner, Bank of America.
You can read the Press release here
The following two tabs change content below.