I used to actively search for U2 podcasts, only to be disappointed by the scant few that could be found. The handful of U2 podcasts out there are rarely updated, much less entertaining. So imagine my delight to find that two great comedians, Scott Auckerman of the popular "Comedy Bang Bang" podcast and Adam Scott, who brilliantly plays Ben Wyatt on NBC's "Parks and Recreation," joined forces to produce the podcast, "Are You Talkin' U2 to Me?" on the Earwolf podcast network. Cleverly billing themselves as "Scott and Scott" or "Adam Scott Auckerman," the two hosts call their show, "The comprehensive and encyclopedic compendium of all things U2." Yes, they call it that – but no, it isn't. And that's part of the joke.
That's not to say that Scott and Scott don't try. In fact, each of their 13 (at the time of publication) episodes do in fact touch on U2 several times throughout. But aside from the tantalizing tagline, "From Boy to Boots, this is 'Are you Talkin' U2 to Me?'" that kicks off each show, it's pretty common to hear nothing else of the band until the 59-minute mark of this two-hour podcast. Then – sometimes – the guys get into the meat of things in the second hour.
Each episode is (supposed to be) devoted to a U2 studio album, so when they finally get around to talking about the album in question, Scott and Scott do a track-by-track analysis that can be fun to listen to – especially when you agree with them. These two know their U2 stuff, which is perhaps the #1 reason why "Are you Talkin'U2 to Me?" is still worth a listen if you're a U2 superfan. For every 10 pointless discourses about begging Bono for t-shirts and inviting attractive college girls on the show, there are two or three references that devoted followers of U2 can definitely appreciate.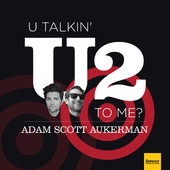 Some of those references involve praising the band, some are politely critical of the band. The good news is, they're nuggets of fun that are insightful enough to put a smile on your face and assure you that you're listening to someone who loves U2 like you do (although Adam Scott makes it abundantly clear that he loves REM more). What may not put a smile on your face, at least if you're listening with kids around, is the course language that seeps in quite often (if your kids love Adam Scott on "Parks," it might not be a good idea to introduce them to this side of him). But if you're familiar with comedy podcasts, you already know that's par for the course.
Another pro is that "Are You Talkin' U2 to Me?" has plenty of first-hand anecdotes U2 fans can relate to, most of them recounting the personal fan journeys of Scott, Scott and their occasional artist/actor/comedian guests. But when you hear Adam Scott describing how he met Bono at the Oscars, wherein he failed to invite Bono to appear on his U2 podcast – and furthermore, failed to tell Bono that he has a U2 podcast – you will, most likely, want to smack him through your computer screen. I did, anyway.
The following two tabs change content below.
Brook
U2 history seeker in the radical center. The air is so anxious; all my thoughts are so reckless. Contact via Twitter at @U2RadioBrook.