The news broke today that Apple is buying Beats Entertainment for a reported $3 billion. This means that Beats founders Dr Dre and former Interscope records founder Jimmy Iovine will now be part of Apple and as sources report will "revamp and run its whole music strategy."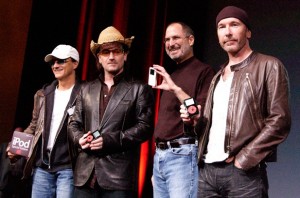 Jimmy Iovine has previously worked with U2 in the 80's on the Under a Blood Red Sky, and the concert film U2 Live at Red Rocks: Under a Blood Red Sky. He also produced U2's Rattle and Hum album and film.
It is believe that Iovine had also lead the discussions between Apple and U2 on the U2 branded iPod back 2004.
Remember the Vertigo iPod commercial?
Now with Iovine at Apple, will we see more co-branding between Apple and the record labels/Artists?
It will be interesting to see how all this plays out, and see if we get more Artist activities and promotion in the new Apple's Beats streaming music service. Could we see an official U2 Beats curated playlist or some other co-branding? Who knows.
Read more about the Apple/Beats deal at The New York Times
The following two tabs change content below.
A starter, technology nut, father of three, and a husband to one. Curator of U2 Radio.