(CNN) – "Listen, I'll talk to Jesus. I'll talk to the lady at the check-out there at Kmart. I'll talk to anyone."
So says Bono, the never-shy lead singer of rock group U2. And if there's one thing that stays constant with the band, it's that Bono will indeed talk.
But there's not much else that is a safe bet with the Irish quartet. With the recent release of their ninth album, "POP," U2 once again sails into new musical waters, this time exploring the fusion of rock and electronica, the rave-based dance music heavy on synthesized sounds.
Bono and the rest of U2 — guitarist Edge, drummer Larry Mullen Jr. and bassist Adam Clayton — once again proved they will talk to anyone, anywhere, when they gathered at a Kmart discount store in New York's Greenwich Village last month to announce plans for their upcoming world tour.
Taking the video-heavy style of their 1992-93 "Zoo TV" tour further, the "PopMart" tour kicks off in Las Vegas in April.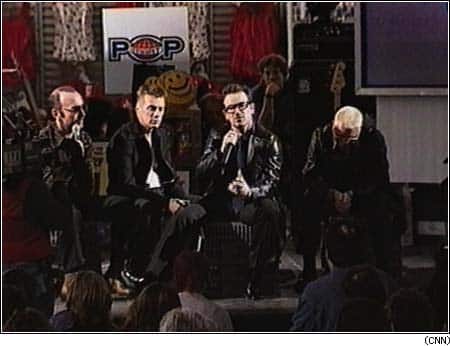 Band members describe the set as a giant, sci-fi disco supermarket. Some of the highlights include a huge golden arch, a giant toothpick with an olive atop it, an enlarged lemon-shaped mirrorball and a massive video screen wall as the backdrop.
"We have many sides, many looks," Bono said. "We want to meet you where you are. And we're at the mall, shopping. That's it."
The early influences
The four Dublin schoolboys have come a long way since forming in 1976. Early U2 recordings show earnest young men influenced to varying degrees by Christianity, Irish social unrest and punk music.
"We saw The Beatles, or The Who, or The Sex Pistols, or whatever it was," Bono said. "We just wanted to be bold."
Apparently, they still do. On the new album, teased by the first single, "Discotheque," U2 continues to employ the techno-sounds so evident on their last offering, 1993's "Zooropa." But this time, the tape loops, dance beats and electronic effects are not just in the background.
According to Mullen, the band is only leading the charge into music's future landscape as well as keeping their sound fresh.
"As a four-piece (band), you can only go and do a certain amount," Mullen said. "And we reached that point after 'The Joshua Tree.'"
It was that 1987 album that not only launched U2 into supergroup status but also signaled a change in the band's music style. After a critically panned venture into American blues with "Rattle and Hum," U2 left behind the world of anthem rockers and ballads and moved into a new era of musical experimentation and self-awareness of their own success.
"We were only kids at that start of the 1980s," Bono said. "We were (teen-agers) when we made our first record, and we had a lot of success in our early 20s. And one thing it's done to us is, now we won't be shy about the way we feel about our band and the success that's happened to it."
The road show
The PopMart tour will travel across North America and Europe in 1997, and there have been some reports of soft ticket sales in some U.S. markets. But although Bono recognizes the possibility of interest in U2 waning, he's taking it in stride. 
"I'm surprised (the fans) follow us the way they do, and the day they stop, well, that'll be very sad," he said, with slightly mock emotion.
However, the show's producer, Michael Cohl, does not foresee a decline in the band's popularity. He has said he expects 5 million to 6 million people to attend the more than 100 shows scheduled for the entire tour, which will not conclude until sometime in 1998. He estimated that the tour could gross $260 million.
But Bono knows the tour's production costs will eat much of that. "It costs a fortune to look that trashy."
And why did the band decide to begin their latest media blitz at a Kmart?
Bono's answer: "It made a lot of sense at the time."
CNN Correspondent Mark Scheerer and Reuters contributed to this report.
The following two tabs change content below.