PopMart Archives: U2 Biography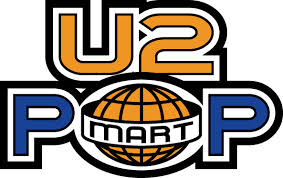 U2 was formed in 1978 by drummer Larry Mullen when he and Adam
Clayton (bass), The Edge (guitar) and Bono (vocals) were still students at
Dublin's Mount Temple School.
The teenage U2 made a local name for themselves in their native
Dublin and released a three track EP on CBS called U23 in 1979.
In January 1980, a readers' poll in the Irish rock magazine
Hot Press gave U2 the top spot in five categories. In April, they
signed to Island Records and in May released their first single, 11
O'Clock Tick Tock.
U2's first three albums were produced by Steve Lillywhite and
won them devoted audiences throughout Europe and America.
Those recordings were BOY (October 1980), which contained the
single I Will Follow; OCTOBER (October 1981), which included
Gloria; and WAR (March 1983) which contained New Year's Day,
Two Hearts Beat As One and Sunday Bloody Sunday and gave
the band their first Number 1 album in the U.K.
In November of 1983, U2 released UNDER A BLOOD RED SKY,
a live recording of their concert at Colorado's Red Rocks
Amphitheater. Produced by Jimmy Iovine, it was a breakthrough
record for U2 in the U.S. and also went to Number 1 in the U.K.
The Rolling Stone writers' poll named U2 1983's Band of the
Year.
In May of 1984, U2 began working with Brian Eno and Daniel
Lanois at Slane Castle outside Dublin. The resulting album, THE
UNFORGETTABLE FIRE, was released in October 1984. Pride
(In The Name Of Love) became U2's biggest hit yet. The album
entered the British charts at Number 1. U2 toured into 1985,
selling out shows at New York's Madison Square Garden, U.K.'s
Milton Keynes Bowl and Dublin's Croke Park. Then in July 1985
U2 performed at Live Aid.
In the summer of 1986, U2 headlined Amnesty International's
Conspiracy of Hope Tour of the U.S., which also featured Peter
Gabriel, Lou Reed, Bryan Adams, The Neville Brothers, Joan
Baez and Sting. The final concert at New Jersey's Giants
Stadium was televised by MTV and included additional guests
Joni Mitchell, Muhammad Ali, Miles Davis and the final
performance of the Police.
In March 1987, U2 released THE JOSHUA TREE which entered
the U.K. charts at Number 1 on St. Patrick's Day, to widespread
critical acclaim. In the U.S., U2 made the cover of Time
magazine, touted as Rock's Hottest Ticket and THE JOSHUA
TREE hit Number 1, as did the single I Still Haven't Found What
I'm Looking For. During that week the band was performing in
Las Vegas and attended a Frank Sinatra concert at which he
welcomed them to the show with a spotlight and the comment,
"Well, they don't spend their money on clothes." It was the
beginning of a warm friendship. Another Eno/Lanois production,
THE JOSHUA TREE also included the singles With Or Without
You and Where The Streets Have No Name.
U2 toured for eight months, playing over 100 shows. THE
JOSHUA TREE sold more than 15 million copies worldwide and
reached Number 1 in 22 countries. It won the Grammy Awards for
Album of the Year and Best Rock Performance. At the
presentation ceremony, Adam Clayton went to the men's room
and found himself locked out of the hall when U2's name was
called. Also in 1987 U2 picked up the Best International Group
Award at the U.K.'s British Phonographic Industry Awards.
In October 1988 U2 released RATTLE AND HUM, a double
album of live tracks, studio sessions and new material (Angel Of
Harlem, Desire, When Love Comes To Town, All I Want Is You).
RATTLE AND HUM, produced by Jimmy Iovine, went to Number
1 in several countries including the U.S., Britain and Australia and
gave U2 their first U.K. Number 1 single with Desire. The album
accompanied the theatrical release of the concert film "U2: Rattle
and Hum," directed by Phil Joanou, which chronicled the band's
1987 tour. At the 1989 Grammy Awards, U2 won for Best Rock
Performance and Best Video.
In September 1989, accompanied by BB King, U2 took off on
their Lovetown Tour of Australia, New Zealand and Japan,
climaxing with two nights at the Tokyo Dome. The band returned
to Ireland to wrap up the decade with four concerts in Dublin the
week between Christmas and New Year. At U2's final show of the
'80s on New Year's Eve, which was broadcast throughout Europe
and the USSR by the BBC and RTE with an estimated audience
of over 500 million, Bono announced that the band planned to "go
away and dream it all up again…"
In the autumn of 1990, U2 began work on their album ACHTUNG
BABY at Hansa Studios in Berlin (formerly Hansa By The Wall).
Produced again by Daniel Lanois with Brian Eno, ACHTUNG
BABY (released in November 1991) included The Fly, One, Even
Better Than The Real Thing, Who's Gonna Ride Your Wild
Horses and Mysterious Ways. ACHTUNG BABY was widely
acknowledged as a renaissance.
1992's Zoo TV Tour was probably the most ambitious series of
rock concerts ever staged. Playing first in arenas in America and
Europe and then in outdoor stadiums, the tour put U2 in front of
more than five million people.
During their tour, U2's schedule coincided with that of American
presidential candidate Bill Clinton, who later invited them to his
inauguration in Washington. Adam and Larry accepted and
performed One at MTV's Inaugural Ball with Michael Stipe and
Mike Mills of REM in the spontaneous supergroup Automatic
Baby. In March, U2 topped 17 categories in Rolling Stone
magazine's readers' and critics' polls and Q magazine voted the
band Best Act In The World Today and Best Songwriters.
On their spring break, U2 recorded ZOOROPA, which captured
the chaos and overload of their lives in the middle of a world tour.
Produced by the Edge, Brian Eno and U2's longtime engineer
Flood, ZOOROPA included the singles Numb, Lemon and Stay
(Faraway So Close). U2 finished mixing the album during the tour
and it was released in July 1993.
For the finale of each show during the Zooropa tour, Bono
showed up on stage in a gold suit, white face and devil's horns.
Calling himself Mister Macphisto, the Last Rock Star, he made
live phone calls from the stage every night. In Italy, he told
Mussolini's niece, Allessandra, that she was "doing a great job
filling the old man's boots" and sang "I Just Called To Say I Love
You" to Pavarotti. When calling England's infamous football
manager, Graham Taylor, from Wembley Stadium in July,
Macphisto led the audience in a rousing rendition of "You'll Never
Walk Alone."
In 1993, Q magazine named U2 Best Act in the World Today and
Zooropa bagged the Best Production Award for the third time in
four years and U2 won their fourth Brit Award, as Best Live Act.
In 1995, U2 released an album of remixes called MELON
exclusively to members of their fan club. The album was given
away free with copies of the club magazine Propaganda. U2
provided the song Hold Me, Thrill Me, Kiss Me, Kill Me for the
soundtrack of the movie Batman Forever. The band then joined
forces with Pavarotti, Howie B, Brian Eno and Holi to record the
avant-garde ORIGINAL SOUNDTRACKS VOLUME 1 under the
alias Passengers. Bono and Edge then provided Tina Turner with
the theme to the James Bond film Goldeneye and the following
year Adam Clayton and Larry Mullen had a hit of their own with
Theme From Mission: Impossible.
Recent Grammys include awards for Best Rock Group
Performance (ACHTUNG BABY), Best Alternative Album
(ZOOROPA) and Best Music Video, Long Form (Zoo TV Live
from Sydney). They have also won five MTV awards. U2's
worldwide record sales are now in excess of 70 million.
In 1994, U2 were given the Martin Luther King Freedom Award in
the U.S. In 1992, they played a benefit concert for Greenpeace in
Manchester and took part in a Greenpeace protest against the
Sellafield nuclear power plant on the Cumbrian coast.
U2 have recorded with Bob Dylan, Keith Richards, Johnny Cash
and BB King. The band have for ten years enjoyed a friendship
with Frank Sinatra, with whom Bono recorded the duet "I've Got
You Under My Skin" in 1993, and to whom Bono presented a
Lifetime Achievement Grammy with an emotional speech in
1994.
No one has ever left U2; no additional member has ever been
added. The band remain in Dublin, Ireland, where they grew up
and met.