PopMart Archives: MSN Pop Critic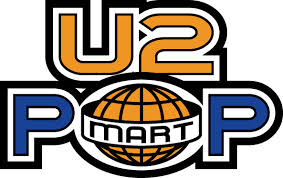 A FEW YEARS BACK THE ACCLAIMED IRISH POET BRENDAN KENNELLY WAS INVITED BY AN IRISH NEWSPAPER TO REVIEW U2'S ALBUM ACHTUNG BABY AND, IN RETURN, BONO REVIEWED KENNELLY'S EPIC POEM THE BOOK OF JUDAS. KENNELLY HAS REMAINED A FAN OF U2 AND PROPAGANDA INVITED HIM TO CAST HIS POET'S EAR OVER THE LATEST U2 RECORDING.
No album that I can recollect begins with a climax since a climax is
a moment of passionate utterance which has to be assiduously
prepared for. Yet this is the first daring feature of 'Pop'.
'Discotheque' is a sexual- spiritual climactic song, a musical peak,
and it booms us, from the very opening moment, into a world in
which love is scrutinised from many angles, different perspectives,
and in an astonishing variety of voices. I say 'variety' deliberately,
even though, obviously, we hear only the voice of Bono. Yet surely
that voice contains within it an entire range of beautifully controlled
voices ranging from the primitively energetic to the poignantly
yearning, from the abrasively physical to the soaringly spiritual,
from the deeply serious to the cheekily flippant. Within that voice is
the soul of the seeker, the indomitable spirit of a person searching
for love and peace in a world torn apart by hate and mayhem.
It is as if Bono had allowed the obscene, destructive energies of
our world into his own heart so that he can give shape and authority
to his vision of peace and love. Yet this vision is being constantly
assaulted, even, at moments, deeply wounded, with the result that
many of 'Pop's' memorable songs are riddled with doubt,
ambiguity, a pervasive sense of hurt and a dark sense of loss.
Even, or perhaps even especially, a central human relationship,
that between man and woman in love, is constantly darkened by an
underlying menace which will not go away because violence, in
one form or another, thrives at the heart of things.
Love's a bully pushing and shoving
In the belly of a woman
Heavy rhythm taking over
To stick together
A man and a woman
Stick together
(Do You Feel Loved?)
The emotionally glutinous nature of relationship is closely
examined, and convincingly celebrated, in these songs. Yet few of
the songs could be said to be fully exposed; they are, instead,
sensitively tentative, brilliantly suggestive, bristling with implications
that haunt the listener as he or she listens time after time to words,
to phrases that haunt the imagination and the feelings long after the
last song has ended. It doesn't really end at all, in fact. Instead,
'Pop' insinuates itself, slowly and deliberately into our minds and
hearts and finds its own special place there.
She feels the ground is giving way
But she thinks we're better off that way
The more you take the less you feel
The less you know the more you believe
The more you have the more it takes to-day
(Last Night on Earth)
'Last Night on Earth' searingly explores the tensions between
giving and taking, in love. The insistent refrain, 'You've got to give it
away', co-exists with the sense of hurt and the sense of rewarding
fulfillment, which are in turn inseparable from the sense of
magnificent squandering and ecstatic abandonment implicit in that
memorable repeated line:
'She's living like it's the last night on earth.'
There are moments when Bono's voice has a similar ultimate
urgency.
We live in an age when sexuality and spirituality are usually treated
as completely separate realities despite the fact that down through
the ages some of the greatest poets and songwriters identified the
presence of the one in the other. Think of Blake's 'Songs of
Innocence and Experience', D.H. Lawrence's poems, stories and
novels, and some of W.B. Yeats's greatest poems. (Yeats, in fact,
is a strong and perfectly absorbed influence on Bono).
Much of 'Pop's' deepening appeal lies in its splendid attempt,
largely successful, to wed the spiritual and the sexual, to
acknowledge the strange ways in which darkness yearns for light,
to express the recognition that sexual passion may be a kind of
prayer.
Take the colours of my imagination
Take the scent hanging in the air
Take this tangle of a conversation
And turn it into your own prayer
(Do You Feel Loved?)
'Discotheque' says 'you cannot connect it' but 'If God Will Send His
Angels' searches, despite the fact that 'they put Jesus in show
business', for love and faith in a passionately lost kind of way. In a
world where 'freedom is just greed', such a search, consciously
conducted, seems doomed to disappointment. And, to tell the truth
that I see, it is the greed that dominates, greed is king and
freedom a hungry child who, if fed and kept alive, may well grow up
to serve that greedy king. And yet U2 go on to recognise and
express the greed and to cultivate the fragile seed of freedom, just
as, in many of these songs, Bono strives to connect sexual and
spiritual energy. His is one of ever expanding largesse of mind,
heart and soul.
All this might seem to suggest that 'Pop' is an unremittingly
serious, even solemn, album. It is serious, but it is also, and
primarily, stunningly lyrical and musically magical. Bono, The Edge,
Adam Clayton and Larry Mullen have years of experience behind
them now. 'Pop' is a resonant distillation of all that experience. The
more you listen to that fabulous four, the better they get. The
beautiful clarity of Bono's voice as he sings his explorations of
love, sex, and spiritlife in our mad world of violence, greed, and
exploitation is a singing beacon of hope in contemporary
darkness. The challenging words and music of 'Pop' should ring
and echo through all our lives.
From Propaganda U2 World Service Magazine
Issue #26 (c) U2 1997