PopMart Archives: Bono on Silver And Gold
"I hadn't been to sleep for about two days when I wrote 'Silver & Gold.' It's a song about sanctions, and it takes the idea of people originally going to South Africa for thesilver and gold. A lot of world crises are economic
issues. They are disguised by religious or political fronts,
but the root of them is often economic, and the song is
getting at that, really.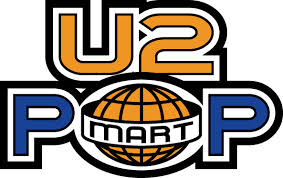 "I wrote it because I'd spend an evening with Keith
Richards and Mick Jagger, and another guy called Peter
Wolf who used to be in the J. Geils group. They were
sitting around the piano, singing these old '50s and '60s
pop songs, and blues songs, and bluegrass songs. It
seems like my record collection just didn't go back that
far, it just started in 1976! So, as much as I was up about
spending the night . . . together(!), I was very down
about the fact that I couldn't contribute. Even though I
have such a background of Irish music, at age 15 I didn't
want any part of that background, my father, my family,
and parlour room songs, rebel songs and the like, and
turned away from it all. So I was completely uneducated,
and I decided after spending a night with these old
timeless delta blues songs, that as I couldn't contribute
one I'd write one. I went away and wrote it, very quickly.
"Keith Richards and Ron Wood played on it, as did
Robert Palmer, the blues critic, who ran home to get his
clarinet! Steve Lillywhite's wife, Kirsty MacColl sang, so
did Tina B., Arthur Baker's wife, and Deborah Ray
Cohen from Rolling Stone, they did the 'do-wops.'
"The most important verse is 'These chains no longer
bind me/nor the shackles at my feet/Outside are the
prisoners/Inside the free.' I've always been fascinated by
borders, by conflict and I write about it all the time,
because out of it comes real human values. In the book
'Night of the New Moon,' by Lawrens van der Post, he
describes being imprisoned in a concentration camp
during the war. The only way he survived was by seeing
the insanity of his captors, and seeing the sanity of love.
He saw them as being captive, captive to that insanity,
captive to that oppression, possession of hatred, and he
saw himself, the prisoner, as a free man of love."