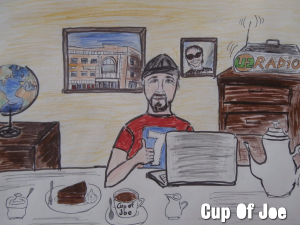 Stop the fight! I absolutely burnt down Twitter to the ground last week. With the help of my Twitter followers, namely @U2 three cords & U2 koustica, we brought Twitter down to its knees begging for some U2 Mercy. Even on again off again u2radio.com Davcal contributed hopping on Twitter's neck bringing it into submission. It's amazing how a few silly games on social media can capture the imagination & creativity of people who are avoiding their families on Twitter. Take note U2 if you're still planning on releasing without any buzz. In this day & age, the roar that lies on the other side of silence is on social media.
So my U2 game went like this: Put 3 U2 song titles in order so that they make sense. You cannot add or subtract words. The example I provided was: One, Bad, Mofo. I expected a reaction like my 2,000 other Tweets, crickets chirping, but the floodgates opened and I received over 200 responses. Davcal's, 40 Seconds Until the end of the World was just brilliant. Rather than re-write all the responses, it's time for u2radio.com readers to get into the U2 ménage a trois of 3 way U2 title action and like Sister Ann said, 3 to a bed is just when the fun begins.
Commenters, you know the rules. Send this out over Face Book, Twitter, email it to your friends & let's see who wins the U2 3 way challenge.
The following two tabs change content below.
joepit
An avid U2 fan, who doesn't take our group too seriously. Sixth grade teacher, married and have an 8 year old boy who is also a huge fan...he didn't have a choice.