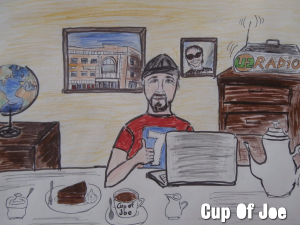 U2 wants me to "Dream out loud," fine!  I want U2 to play a concert in my house!
 Too far fetched?  Fly into the Danger Zone with me as we explore the latest, hottest stop on the concert tour…your living room.
Meet my new hero, Eric Sanchez.  Eric needs $30,000 by August 23rd to get 80's star Kenny Loggins to play a show in Eric's living room, so that him & his friends can get Footloose & not so fancy free.  Not having $30K in his back pocket, Eric turned to one of the greatest American pastimes….he's begging for it.  That's right, Eric needs your money and rather than go door to door like a traveling salesman on his mother's side, he's doing the next best thing, he's "Loggin" into kickstarter.com, the site where small men with smaller wallets & big ideas go for quick money.  If you contribute $300 or more to Eric's philanthropic adventure, you'll be guaranteed a prime spot in Eric's living room for the show.  I call dibs on the recliner.
Which brings me to U2.  U2 has to be twice as good as Kenny Loggins…right?  I mean, sure Kenny's had hit songs in Top Gun, Footloose & Caddyshack that became huge radio hits, but U2 had  songs in Batman, Transformers, Gangs of New York, Ordinary Love & Million Dollar Hotel, that, that, that… never-mind.  Kenny's spiked hair in the 80's is no match for Bono's mullet.  Kenny hasn't had a radio hit in over a decade.  Neither has U2.  So, by my logic, I should be able to get U2 to play at my house for a measly $60,000.
Think about it, what a great way for U2 to road test their new material.  If the new stuff flops only 50 of us will know.  I will take care of things on my end.  The furniture I can rearrange & I won't trade my dreams for some small change, like 60K for the biggest band in the world to play in my living room, but I do need your financial help.  I need to collect 60K by September 1st.  If we reach our goal, I'm fairly certain U2 will show up.  They have to…right?  My living room is too small for the spaceship or Lemon, but I'm confident we can fit Larry's kit in a corner, minus his cymbals & 1 drum stick.  Bono can still bring the harmonica. If you're interested in the concert dubbed "A Sort of Homecoming," here's what you need to contribute.
$10– Will get you a spot outside my house.  The muffled sound reverberating throughout the neighborhood will more than make up for your lack of viewing pleasure.  Picnic blankets are allowed, but not on my "Fields of mourning" lawn that still gives no resistance….to growing. I just had it reseeded.
$40– Will get you a seat in my bathroom, minus the toilet for obvious reasons.  Anyone caught rummaging through my medicine cabinet will be removed immediately.  Toilet paper will be provided for an additional charge.
$100– Will get you into the hallway adjacent to the living room.  Some areas of the hallway are obstructed, so get there early.  The less you see, the more you know that you should have coughed up some more dough.  The GA line will start in my driveway the night before the show.  If the show is on a Wednesday, could the person closest to the trash cans, please place them curbside?
$500– Will get you into the living room, but not a seat.  Destruction of my son's Legos, purposely or by accident, will mean immediate removal from my home with no refund.  Due to a very limited viewing area, swinging to the music in any shape, way or form will not be tolerated.
$1,000– Will get you a guaranteed seat for prime viewing.  However, you must remain seated the entire time.  If you stand, the show will stop immediately and a lottery for relinquished seat will occur.
Make no mistake, this is it!  This is the show of a lifetime.  Like Eric says, "Don't do it for Kenny…Do it for America!"
"U2's Next Concert!"

,
The following two tabs change content below.
joepit
An avid U2 fan, who doesn't take our group too seriously. Sixth grade teacher, married and have an 8 year old boy who is also a huge fan...he didn't have a choice.