Today I'm going to step outside of my comfort zone a little bit and review a few covers that don't interest me very much. Obviously, someone likes this kind of stuff, or they wouldn't keep making it, so maybe I'm missing something.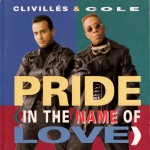 I'd seen this first cover a few times online as I was researching other articles that I've written for the site. I decided that today would be the day that I would finally force myself to listen to it. So it was that, with much trepidation, I clicked "play" on YouTube and subjected myself to the entire five minute video of Clivilles + Cole's (formerly of the C+C Music Factory, apparently – I guess they were the "C+C") remake of "Pride". To start with, the video is absolutely bizarre. What do pit fighters, a cage dancer, and a falcon have to do with this song? Nothing, as far as I can see. I guess I'm not really part of this culture, though, so it really is possible that there's some significance that I'm just not privy to. The music is…not as bad as I had feared. Actually, I kind of like it. It's a little repetitive, but isn't all dance music? It has to be to function as what it is. The instrumental break at about 2:30 is interesting, and the female vocal, backed by choir, on the choruses is genuinely uplifting, even if I strongly suspect that the meaning of the song was lost on these musicians. As I was watching this, I remembered that this couldn't have existed without the band giving their permission, and that got me thinking – I wonder how much of an inspiration this was to the band as they waded into the waters of dance mixes not long after this came out in 1991. Things That Make You Go Hmm…
Since today is my day for tackling unpleasant tasks, I decided that my next listening adventure would be Bellefire's cover of "All I Want is You". Unlike the above review, I know very little of Bellefire other than they're an Irish all female vocal group with a somewhat pretentious name. None of that knowledge makes me anxious to hear this, but maybe they'll bring something new to the table. At least they're Irish, so they have that in common with the band. Be right back.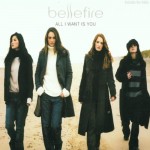 OK. Four minutes later, and I have to confess that I'm not sure exactly what that was. Four girls who are way too young and pretty to know anything about heartache and loss gaze longingly into the camera while their hunky boyfriends play polo on a beach. I guess that probably appeals to someone – maybe it's even a good way to introduce a younger audience to the band, right? Snarkiness aside, I have to confess that this version of the song honestly made me feel a tiny little tug of emotion at about the 2:37 mark, just as the final chorus takes flight. The vocal arrangement on this is quite nice, and of course the girls are all fine vocalists, even if their voices are a little homogenous. If this is the worst thing I'm subjected to today, I'll count myself lucky.
So there you have it. I hope that I haven't offended anyone too much. Share your favorite guilty pleasure U2 cover below, and if anything catches me eye, maybe even I'll write it up next time
"Covering U2 - Where Angels Fear to Tread"

,