This is the third and final installment of my retrospective on U2's Popmart tour, a tour we seem to forget about. The last two shows I went to on Popmart, on the third leg, were quite fabulous. They were in Tampa and Miami on November 10th and 14th in 1997, and that is the week I almost became a Bono girl – ALMOST. The U2 concert in Tampa, Florida on November 10, 1997 at Houlihans Stadium was my favorite show of the Popmart tour. At the time, it was actually my favorite U2 show I had ever seen, including all of ZooTv. I think I enjoyed it so much because I stood right at the B stage, rather than staying in my seat. This was a big deal in the days before we had GA (general admission). There was nothing between me and the B stage. Not only did U2 play a set on the B stage, they also entered the stadium through the audience and onto the B stage. Talk about exciting! Opening act Third Eye Blind also made use of the B stage, and I found the lead singer Stephen Jenkins very appealing.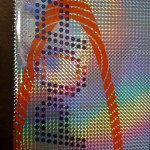 U2 sounded better in Tampa than at the shows I had seen on the first leg of Popmart. Even though it was raining and the top deck of the stadium was empty, it was a great show and a great energy that night in Tampa! Instead of karaoke like in the first leg, Edge sang "Sunday Bloody Sunday" – by himself! That night a belly dancer from the audience came on up on stage for "Mysterious Ways," like during ZooTv. I didn't know it at the time, but that belly dancer was Melissa Pruitt who would become my friend four years later on the Elevation Tour. Also in attendance that night was a young U2 fan seeing her first U2 show. Her name is  Beth Nabi, and I would meet and become friends with her 14 years later on the 360 Tour. So in many ways, that U2 Popmart show in Tampa was very significant for me.
The set list for Tampa Popmart 11.10.97 was as follows: Mofo, I Will Follow, Gone, Even Better Than The Real Thing, Last Night On Earth, Until The End Of The World, New Year's Day, Pride, I Still Haven't Found, All I Want Is You, Staring At The Sun, Sunday Bloody Sunday, Bullet the Blue Sky-America, Please, Where the Streets Have No Name, Discotheque, If You Wear That Velvet Dress, With or Without You, Hold Me Thrill Me Kiss Me Kill Me, Mysterious Ways, One-Wake Up Dead Man.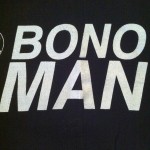 A few days later on November 14th, I was in Miami at Pro Player Stadium for my last Popmart show. I again did not stay in my seat and stood right at the B stage. This time Smashmouth opened, who were not as exciting as Third Eye Blind. When U2 played their set on the B stage, Bono leaned into the audience with his leg up on the rail. I grabbed onto Bono's leg, sort of hugged it actually. Although I have always been a Larry fan, I was really digging Bono during Popmart. Besides getting to hug his leg, I really liked how Bono looked on Popmart. His natural color hair was short, and he was in great shape. So yeah, I almost became a Bono girl in November of 1997 – ALMOST! Don't worry Larry, I still love you best! It was just a momentary lapse.
The set list was the same in Miami as it was in Tampa, except of course U2 played "Miami" in Miami. The set list for my final Popmart show in Miami 11.14.97 was as follows: Mofo, I Will Follow, Gone, Even Better Than The Real Thing, Last Night On Earth, Until The End Of The World, New Year's Day, Pride, I Still Haven't Found, All I Want Is You, Staring At The Sun, Sunday Bloody Sunday, Miami, Bullet the Blue Sky, Please, Where the Streets, Discotheque, If You Wear That Velvet Dress, With or Without You, Hold Me Thrill Me Kiss Me Kill Me, Mysterious Ways, One-Wake Up Dead Man
I really enjoyed U2's Popmart tour. I don't think it gets the credit it deserves, but there were some great performances. It was visually pleasing as well. There was a giant golden arch like McDonald's, a giant martini and a giant disco-ball traveling lemon that brought Larry, Bono, Edge and Adam to the B stage. Popmart was also the only time I have seen U2 in a uniform of sorts. They each had their own T-shirt: Bono was "Bono Man," Larry was "Hit Man," Adam was "Pop Tart," and Edge was "Mr. the Edge." I also think Popmart was the best U2 has looked as a whole, where each member of the band looked his best.   01 Intro
02 Mofo
03 I Will Follow
04 Gone
05 Even Better Than the Real Thing
06 Last Night on Earth
07 Until the End of the World
08 New Year's Day
09 Pride (In the Name of Love)
10 I Still Haven't Found What I'm Looking For
11 All I Want is You
12 Staring at the Sun
13 Sunday Bloody Sunday
14 Bullet the Blue Sky
15 Please
16 Where the Streets Have No Name
17 Intermission
18 Discotheque
19 If You Wear That Velvet Dress
20 With or Without You
21 Hold Me Thrill Me Kiss Me Kill Me
22 Mysterious Ways
23 One