A few days after the opening shows in Florida, I flew to Charlotte on March 29, 2001 for the third show on U2's Elevation Tour. It was on my way home to Baltimore. This show was my first U2 GA (General Admission) show. It was assigned seats for the previous two tours, ZooTv and Popmart. I don't know why I opted for seats for the first two Elevation shows, but I am glad I did. It gave me sense of the show, seeing it from a little distance. I was able to see the entire catwalk, or 'heart' as we came to call it.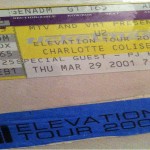 I arrived at the Charlotte Coliseum a couple of hours before the doors opened and got in the GA line. Soon, I would be camping out over-night to be toward the front of the GA line to get a good 'spot' inside the arena, but this was my very first GA show and I didn't know the procedures yet. Even though I had no idea what I was doing, I got a great spot at the tip of heart – meaning at the center of the catwalk. Nelly Furtado opened for U2, and I did not like her at all. Bono sounded amazing that night in Charlotte. Bono had been a bit under the weather for the opening shows, and his voice wasn't all there. Bono was literally in front of me for half the show as he stood at the tip of the heart so he could be in the center of the arena more accessible to everyone. After being introduced, Larry stood right in front of me. At the time, this was the closest I had ever been to Larry. Apparently the bad weather caused U2's plane to arrive just before showtime, so the set list in Charlotte was shorter than the opening shows in Florida. There was no "Discoteque," no "Angel of Harlem," no "Unchained Melody" at the end of "One," and still no "Gone" or "I Will Follow." There was, however, a full band version of "Staring at the Sun" and "Ground Beneath Her Feet" made its return from opening night.
The complete set list for Elevation Charlotte 3.29.10 was as follows: Elevation, Beautiful Day, Until the End of the World, New Year's Day, Stuck In A Moment, Staring at the Sun, New York, Sunday Bloody Sunday, Sweetest Thing, In A Little While, Ground Beneath Her Feet, Bad, Where the Streets Have No Name, Mysterious Ways, The Fly, Bullet the Blue Sky, With or Without You, One, Walk On.
Check back next Friday as I find my picture with Bono in the Tacoma newspaper.
01 Elevation remix Intro
02 Elevation
03 Beautiful Day
04 Until the End of the World
05 New Year's Day
06 Speech
07 Stuck in a Moment
08 Staring at the Sun
09 New York
10 Sunday Bloody Sunday
11 Sweetest Thing
12 Band Intros
13 In a Little While
14 The Ground Beneath Her Feet
15 Bad
16 Where the Streets Have No Name
17 Mysterious Ways
18 The Fly
19 Encore Break
20 Bullet Intro
21 Bullet the Blue Sky
22 With or Without You
23 One
24 Walk On