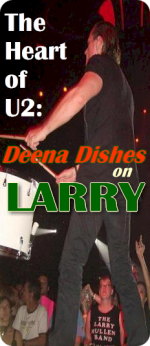 When you hear the name Larry Mullen, you think drummer. The first association that you make is not actor, but over the past few years, that is what Larry Mullen has become, in addition to his day job as U2's drummer and founding member. Larry has never been the guy out in front, he is definitely not the face of the band. In fact, most non-U2 fans don't even know who Larry Mullen is. So it is ironic that Larry Mullen is now an actor with two movies on his resume.
In 2011, in his 50th year, Larry Mullen Jr made his acting debut in the remake of The Man on the Train. Not only was this Mullen's acting debut, it was the starring role – along with Donald Sutherland. Mullen also produced the movie and composed the original score. The Man on the Train debuted on Video on Demand on October 28, 2011, just three days shy of Larry Mullen's 50th birthday. I of course watched it that night. I did not love The Man on the Train, but I loved watching Larry Mullen for two hours as he was in almost every scene. It was sort of like an Elvis movie in that the movie isn't that great, but I like it just because I like watching Elvis. Even though I did not love the movie, I still bought it the minute it was released on dvd. Although The Man on the Train was too slow for me, I really appreciated the story after watching the ending. The character of The Thief that Larry portrayed is much like himself – a no-nonsense, sarcastic man of few words with a cold stare. For his portrayal, Larry darkened his hair and grew a goatee.
A few days after The Man on the Train debut on Video on Demand, Larry Mullen attended the Ft. Lauderdale International Film Festival on Nov 1, 2011 via Skype. Mullen was named FLIFF's 'Star on the Horizon' for his starring role in Man on the Train. Mullen answered questions from the audience and talked a bit about the film. I did not attend this event, since Larry wasn't actually going to be there (only via Skype), but a friend of mine went and gave me all the details!
This year saw the release of Larry Mullen's second movie, called A Thousand Times Good Night. Besides Mullen, the Irish-Norweigian-Swedish production also stars Juliette Binoche, Maria Doyle Kennedy, Nikolaj Coster-Waldau and Lauryn Canny. The film centers around Binoche's character, her career and family. Mullen plays her family's best friend.
A Thousand Times Good Night was filmed in Dublin and was screened in the Jameson Dublin International Film Festival and the Montreal Film Festival. The movie was released in Norway and has been picked up for distribution. Look for A Thousand Times Good Night in a U.S. theater near you later this year.
"Larry Mullen, the actor?"

,