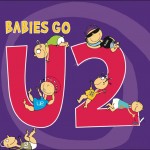 Today's "Covering U2" article is for all you parents of young kids out there. I've had in my collection for a little while three albums of U2 songs given the lullaby treatment. The first is titled Babies Go U2 and consists of 14 instrumental tracks, including a few choices that I found to be somewhat surprising, such as "Electrical Storm" and "Staring at the Sun", performed in a style that could be safely described as muzak. It's all very calm and soothing, and I suspect that it would perform the task of lulling your tot to sleep rather nicely, but I have to admit that it's not very appealing to listen to under any other circumstances. It's actually a little bit boring, which I guess is part of why it works so well for sleepy-time.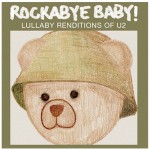 The second and third collections are both from the "Rockabye Baby" series, which interprets music from popular artists into infant-friendly ditties performed on glockenspiel and mellotron. At first, the music sounds a little bit clunky and disjointed, but as the disc plays, it becomes strangely pleasing, and by the end of the first track, I found myself unable to stop smiling. I think that these renditions would be equally as appealing to executives in high-pressure jobs as they are to small children trying to catch "40" winks (pun intended). Honestly, any U2 fan could probably find something on one of these two discs to enjoy. The second volume, titled Rockabye Baby! More Lullaby Renditions of U2 contains some more esoteric titles, like "Elevation" (which is absolutely charming) and "Magnificent", so if you've only got room in your budget for one, I'd recommend that, but both discs in this series offer a whole lot to love for U2 fans of any age.
"Covering U2 - Lullabies"

,
The following two tabs change content below.
Latest posts by broadsword (see all)