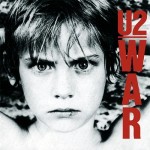 I thought that we'd take a look at two separate, unrelated, covers of U2 songs, one that seems to be pretty obscure, and the other, not-so-obscure at all. Starting with the obscure, I present this lovely cover of U2's "Drowning Man" from female vocalist Madelyn Iris. I first heard this back around the turn of the millennium on a bootleg that I bought from Cincinnati's fantastic Everybody's Records record store, and I fell in love with the mellow, mystical mood of the piece almost immediately. Of course, being the obsessive completist that I am, I did a little research in an attempt to identify the original source of the piece, but to no avail. I can state that the bit at the start, with Bono reciting the poem, is from is from a 1998 compilation titled Ni Un Paso Atras! that Bono contributed several pieces to, including this recitation of the Yeats poem "Mother of God." If anyone reading this has any details on the origin of this gorgeous work of music, I'd love to get the full story, so don't be shy!
Regardless of where it came from, the piece is utterly captivating. The gentle ebb and flow of the instruments, along with the strong, beguiling, femininity of the vocal delivery, makes me think of some ancient sea-farer, standing on the deck of a ship, late at night. There's no one around, and the moon is reflecting on the waves as they gently lap against the bow hypnotically. In the distance, he hears the enchanting song of a mermaid, stealing all his self-control, driving him to dive to his death in a desperate need to find the source of that music. An entirely different image of the drowning man from what's conjured up by U2's version of the same song, but no less powerful or poignant.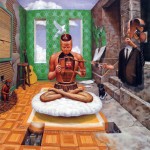 The second song on our docket today is the cover of "Bullet the Blue Sky" from well-known California band P.O.D. I really have mixed feelings on this cover version. It's interesting to hear an alternate take on this unorthodox song, but this arrangement is so bludgeoning and loud and aggressive, all of the original's subtle emotional complexity is drowned out. I can't help but nod my head along to the driving rhythm, but it feels like its all swagger and no substance, which is a shame, because of the very deep and substantive place that the song originally came from. I applaud P.O.D. for their interesting choice of a song to cover, but the execution leaves a little something to be desired. That said, it's not terrible, and if you're in the mood for pure dumb anger, this might be just what you're looking for.